Paul Ryan Trashes Democratic Budget On Fox: Their Definition Of Balance 'Never, Ever Balances The Budget'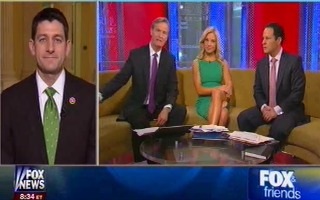 Rep. Paul Ryan (R-WI), the chairman of the House Budget Committee, joined the hosts of Fox & Friends on Tuesday as Congressional Republicans and Democrats are set to meet to negotiate a consensus on a federal budget for the first time in nearly four years. Ryan told the hosts that the Republican budget plan will not only balance the budget in a decade, but will become most American's preferred budgetary approach.

RELATED: Paul Ryan Tells CBS' Bob Schieffer 'We Do Not Have A Debt Crisis'
Steve Doocy asked if Ryan would consider not just his own budget proposal but, for example, a proposal put forward by the Republican Study Committee which balances the federal budget in about half a decade. Ryan replied that his plan creates a stable balance that would remain in balance rather than begin to increase again in a short period of time.
Ryan was asked to respond to Rep. Chris Van Hollen (D-MD) who said recently that the Republican budget does not balance the federal budget in ten years.
"Is he right?" Brian Kilmeade asked.
"No," Ryan replied. "They're throwing new meanings to the word 'balance.' They say that they're taking a 'balanced approach.' The problem is that their balanced approach never, ever balances the budget."
He took a swipe at the Democratic budget for increasing spending and raising $1 trillion in new tax revenues. "We actually balance the budget by cutting spending and not raising taxes," Ryan added. He said that his budget increases federal spending rates every year by 3.4 percent instead of 5 percent, leading to balance in 10 years.
"All the Democratic budgets have one thing: more taxes, higher spending, never balancing the budget," Ryan continued. "We think that's irresponsible."
"Do you think you can get something done in conference?" Kilmeade asked expressing pessimism that a deal could be worked out given the distant position both Republican and Democrats are arguing from.
"You would not conclude that by looking at these two different approaches," Ryan conceded. "If you look at these two budgets, yeah, we're two worlds apart. We're literally on different planets. But at least they're passing a budget in the Senate. At least, for the first time in four years, they're passing something."
Finally, Anna Kooiman asked Ryan for his thoughts on the CPAC conference over the weekend and the Republican National Committee's report on what changes the party should implement in order to be more competitive.
"We have to be honest with ourselves," Ryan said. "What I'm excited about is we've got a deep bench of young talent come to the surface showing the country that we really have ideas, a solution, and a vision."
"We're going to be able to broaden our appeal to the country by showing these innovative solutions that make things better in this country," Ryan went on. "We're in a major chapter of writing the 21st century for America, and we owe it to our fellow men and women of this nation to give them solutions based on our founding principles."
Watch the clip below via Fox News Channel:
> >Follow Noah Rothman (@NoahCRothman) on Twitter
Have a tip we should know? tips@mediaite.com