Penn Jillette & Gary Johnson Lament NY's Marijuana Decriminalization Doesn't Go Far Enough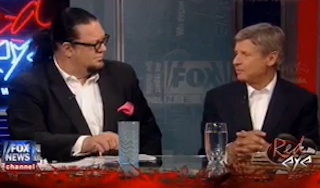 On Fox News' Red Eye Wednesday morning, magician Penn Jillette and Libertarian Party presidential nominee Gary Johnson weighed in on New York State Governor Andrew Cuomo's proposal to cut the penalty for public possession of small amounts of marijuana, with both arguing the move didn't go far enough.
"I've always advocated legalizing marijuana because decriminalizing turns its back on half of the problem, which is the market place," Johnson explained. "Look, if they decriminalize pot, it just makes it in my opinion a lot easier for law enforcement to focus on those who are selling it. If you look at the profile of individuals in federal prison, the majority are those who have sold small amount of drugs on numerous occasions and have been caught, mandatory sentencing. So, you know, positive step, but legalize it. Let's tax it and let's regulate it."
RELATED: Bishop To Fox & Friends: NYPD Loosening Marijuana Laws To Cover Up Arrests Of Minorities
Legal analyst Remi Spencer agreed with Cuomo's proposal to decriminalize pot, but felt it would be a long time before the country got onboard.
"I think we can agree there is a big difference between a college student who gets caught with a little marijuana in the park one day, and the person who is traveling around the world and putting people in danger and getting all of the drugs and distributing them throughout the country," Spencer argued.
"But if it is legal, that comes off the black market," countered Jillette. "The problem is created by it being illegal."
"I am all for decriminalizing small drug possession but it will be a longtime before we see that," Spencer replied.
"Why? The only person I know who doesn't smoke pot is me," joked Jillette.
Later during Andy Levy's Half-Time Report, Jillette provocatively added that they should not tax marijuana as is commonly suggested. "Tax a lot less of everything," he opined.
Watch the Red Eye panel discuss the effectiveness of marijuana laws via Fox News:
Watch Levy's segment below:

Have a tip we should know? tips@mediaite.com