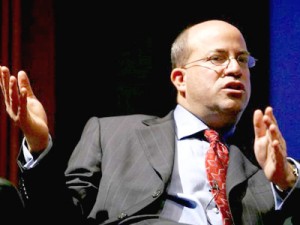 Former NBC Universal CEO Jeff Zucker is reuniting with Katie Couric for her new show Katie, which premieres later this year. To tide us over until then, Couric's website's been posting various features and videos, including an interview with Zucker, who is the executive producer of the show. In the wide-ranging Q&A, Zucker talks about Couric, of course — but also comments on some of the tougher points in his career.
A note before the interview says, "We asked our colleagues to respond to our interview questions with the first thought that came to mind." The first question? "You're kind of a big deal" — to which Zucker replied, "Am I supposed to respond to that?"
But it got better from there. Zucker cited Couric's versatility as the characteristic that makes her suitable for daytime TV, adding that the most difficult part of being an EP is "being responsible for making sure you get it all right." Though no one gets it all right, and Zucker acknowledged this when asked what one moment he would relive. While being named CEO was his proudest moment, Zucker said, "I wish we had done a better job handling the Jay Leno, Conan O'Brien transition." Honest, but hardly surprising given the very public, contentious late-night show battle in 2010.
Hardest decision he's ever had to make? One of them was "whether or not it was worth paying Friends $10 million an episode to come back and do another season." (He adds, "Thank god we did.")
"With morning TV comes a lot of hilarious situations and stories that go down in the history books," the interview noted. "Can you think of one legendary tale?" Zucker pointed to the 2000 incident during which he sent a helicopter over to the scene of Good Morning America's outdoor concert, with the noise drowning out the artists performing. "That kind of created a little bit of a shitstorm," he said. At the time, Zucker had described the stunt as "a little Friday morning fun."
(H/T KatieCouric.com)
Have a tip we should know? tips@mediaite.com