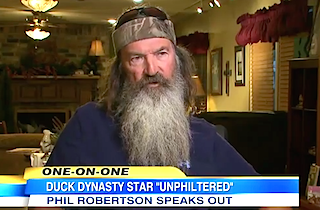 Duck Dynasty's Phil Robertson is back in the spotlight and this he's written a full book of his philosophy on life titled unPHILtered: The Way I See It
. The reality TV star, who caused a major firestorm for A&E last year when he denounced homosexuality in the pages of GQ, spoke to Good Morning America's Ryan Owens about his unique journey over the past year.
"I don't hate anybody," Robertson insisted in the interview. Asked specifically about the comments he made, in which he compared gay sex to beastiality, among other things, he had this to say:
"The only place that I know of that I could have gone to answer that question would be a Bible. The dictionary wouldn't have explained it. An encyclopedia wouldn't have explained it, whether it was a sin or not. So I went to the only source I had to answer his question…

I'm as much of a homophobe as Jesus was. People who are participating in homosexual behavior, they need to know that I love them."
The GQ interview also included some controversial comments about the American South's history of racism, which Robertson is also trying to clarify months later. "There is one race, one race on this planet," he said Tuesday. "It's called the human race, we're all the same. To me, there is absolutely nothing that has color to do with it."
Finally, Robertson had a message for all those people out there using social media to criticize his beliefs.
"I don't own a cell phone, I don't have one," he said. "I've never turned on a computer in my life. So whatever America is saying or not saying about me, true or not true, what they need to understand is, I'm not hearing it."
Watch video below, via ABC:
[Photo via screengrab]
— —
>> Follow Matt Wilstein (@TheMattWilstein) on Twitter
Have a tip we should know? tips@mediaite.com