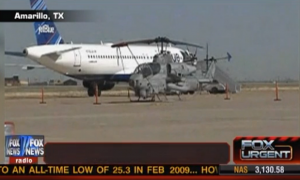 A JetBlue flight made an emergency landing in Texas today after what the airline said was "a medical situation involving the captain." Some reports say the pilot yelled for passengers to "say your prayers." Fox News' Shepard Smith spoke to Laurie Dhue, a former Fox News anchor herself, who coincidentally happened to be on the flight.
The flight, which left New York, was scheduled to land in Las Vegas. According to reports, the captain had to be restrained, but all passengers are unharmed. Dhue called in from Texas and narrated what she saw:
"More than halfway through this flight, the pilot of the plane, the actual captain of the plane, who had come out to take a break, became extremely agitated. The two flight attendants who were in the front of the plane with him noticed this. They got him to the back of the plane, and there happened to be a deadhead co-pilot who happened to be on board. So, the co-pilot was then moved into the cockpit to take over. And the next thing we all knew, the pilot was then running down the aisle, screaming, and pounding on the cockpit doors."
Smith asked, "Screaming what?" Dhue continued:
"He said, 'Let me in, let me in, […] We gotta get this plane down, we gotta get this plane down.' And he's trying to punch in the security code to get in, and the flight attendants which were at the front of the plane were trying to stop him from doing this. Fortunately, he was not able to get into the cockpit because he was having a breakdown of some kind. Immediately after that happened, several huge men, who happened to be sitting in the front of the plane […] rushed down the aisle, rushed the captain of the plane, wrestled him to the ground in a matter of seconds, and got him subdued pretty darn quick."
Coincidentally, a former NYPD officer "happened to be on board." He told Dhue that he'd heard the pilot is war veteran and was suffering from post-traumatic stress disorder — which local authorities also confirmed to Dhue. Smith asked about reports that the pilot "said something about a bomb." Dhue said she didn't hear that, though a passenger sitting near her did hear him say the word "bomb." Dhue added that the pilot did say the words "Afghanistan" and "Israel."
Dhue also said she didn't know anything about some reports that the pilot mentioned Islamists. The plane landed within 15 minutes of the pilot being subdued, she said, and immediately upon landing, they were "swarmed" by local authorities. The FBI is also there now, she said, and "no one has said anything about terrorism."
"What a weird flight," Smith concluded.
He turned to his panel and said, "I don't know what I'd do if some pilot came running down the aisle all weird now." Upon mention of how this is related to Staff Sgt. Robert Bales (accused of shooting Afghan civilians), Smith simply replied, "I don't know. I'm just glad not to have been on the plane."
Take a look, via Fox News:

Have a tip we should know? tips@mediaite.com