Press Finds LAX Shooter's 'Anti-Government Views' Less Threatening the Monday After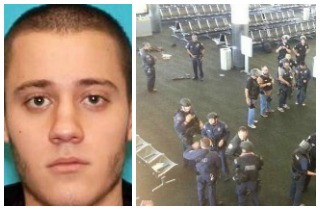 The country was shaken on Friday after a disturbed gunman attacked a Los Angeles airport terminal with a rifle and shot several people, killing one Transpiration Security Administration official. Within hours of the shooting, a note found on the person of the incapacitated shooter, Paul Anthony Ciancia, indicated, according to some reporters including NBC News Pete Williams, that he harbored "strong anti-government views." With that, the predictable race was on to blame American conservatism for the tragic assault on LAX.

"We're told, that he had strong anti-government views," Williams reported on Friday. "That's based on some written material that we're told he was carrying, that they found on him after he was shot by L.A. airport police."
That note, it was later revealed, included unfavorable references to the Federal Reserve, the TSA, and the "new world order." In the note, Ciancia warned the public that he "wanted to kill TSA and pigs." These, it is fair to say, are the ramblings of a disturbed person in desperate need of treatment. To the extent that there is any form of political coherence in these views, they would be more closely associated with fans of Alex Jones than Rush Limbaugh. But passions can run hot and overwhelm prudence in moments like these.
As chronicled by The Examiner, a number of irresponsible commentators on social media outlets immediately took to blaming the tea party and the National Rifle Association for the violent incident. Primed by erroneous early reports like those of ABC News' Brian Ross who wrongly implicated a tea party member in the hours that followed the shooting of moviegoers in Aurora, Colorado (a linkage which enjoys a disturbingly long half-life on the darkest corners of the internet), opponents of conservatism did not exercise any caution before attacking their ideological adversaries for inciting violence.
But even responsible, professional political commentators expressed their fears over an increase of what some see as "dangerous" violence perpetrated by those with Ciancia's "anti-government views."
On Friday, minutes after the details of Ciancia's note became known, Demos Vice President and regular MSNBC guest, Heather McGhee, expressed her concerns about how "anti-government views" like those of this would-be mass shooter have been elevated and legitimized.
"It is unfortunate, but we have to actually take every moment that this happens to keep trying to build pressure for reform," she told Washington Post columnist Jonathan Capehart and, in the process, ill-advisedly confessing that mass shootings represent an opportunity to advance a political agenda.
RELATED: NBC News' Pete Williams: LAX Shooter Paul Anthony Ciancia Had 'Strong Anti-Government Views'
"I often think about how so many of these shootings require public servants, whether they're teachers or firefighters or police officers, to be at the front lines," McGhee continued. "And now we have TSA people."
"So, we really have to think about how we treat and respect our public servants in this country," she concluded, "and how anti-government sentiment is at the top of our political system right now, and it's dangerous."
Well, days later and after hours of extensive investigation into Ciancia's background, the LAX shooter's political evolution is of far less interest to the news media and his "anti-government views" seemingly less threatening and more disturbing.
"There's nothing that his friends or roommates say this they thought he was an adherent to this extremist anti-government view expressed in this handwritten letter that he had," Williams reported on Monday, "which is a, sort of, general rant of the usual stuff about the Federal Reserve, and federal government, and the currencies, and one world order, and all of that."
Ciancia's target, the TSA, is concerning. Many on the conspiratorial end of the conservative spectrum deeply mistrust how the TSA has evolved into an invasive institution that unfairly targets law-abiding citizens for intrusive scrutiny. But that millions share this opinion and do not act out violently says much more about Ciancia's mental state than it does about the American right.
The instinct to lurch, seemingly involuntarily, into attacks on one's political opponents in the wake of incidents of mass violence appears to be a fad on the wane. As each incident occurs, fewer and fewer commentators on the left reflexively blame the tea party or Second Amendment rights advocates in the same way that conservatives in the media are now backing off mechanically blaming Hollywood or the videogame industry.
But there will always be holdouts. The paucity of otherwise responsible voices in the media on either side of the political spectrum blaming their opponent's ideological allies for this latest act of senseless violence suggests that a turning point has been reached. Thank goodness for small favors. The true causes for mass violence are non-partisan. Maybe soon they will be honestly addressed.
[Photo via twitter/L.A. police]
— —
> >Follow Noah Rothman (@NoahCRothman) on Twitter
Have a tip we should know? [email protected]