Bill Maher, Rachel Maddow And Touré Point And Laugh At Herman Cain Candidacy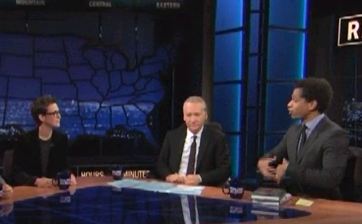 Bill Maher, Touré and Rachel Maddow were all in agreement that Herman Cain was in over his head intellectually in his run for the Republican nomination. "I think people have been reluctant to call Herman Cain dumb and an idiot like Sarah Palin, because they're afraid that people will say 'it's because you're racist,'" Maher surmised. "I'm not racist, I think he's dumb; I think he's really dumb!"
"I think he didn't anticipate that if he was running for president that people would ask him questions about stuff," Maher added.
"He's totally ridiculous!" exclaimed Touré. "I mean like intellectually ridiculous."
Maher backed up his assertion by providing astounding footage from John Stossel's Fox Business program where Cain gave such an flabbergastingly inconsistent response on abortion that a guest was visibly mouth-gapingly stupefied.
RELATED: Herman Cain: I'm Not Pro-Choice, I'm Pro-Choice On Getting An Illegal Abortion
"I love the way he cops an attitude, like 'Is my completely contradictory position too hard for you to understand?'" Maher snarked.
"He's not a serious thinker," Touré continued. "The real problem is that he's hijacking the process for his brand — to sell some books, to maybe get a job on Fox…it shouldn't be right to do that."
Maher disputed Touré's notion that the former Godfather Pizza CEO was running for president just for fame and money.
"But then why doesn't he have any staff in Iowa or New Hampshire?!" Maddow incredulously observed.
"Because he's not that bright!" responded Maher.
Bloomberg Businessweek's Joshua Green defended Cain, saying he was great at packaging and conceptualizing ideas. "The fact that 9-9-9 is the dominant idea in the Republican campaign so far is testament to his skills." Touré did not share Green's glowing assessment of the pizza king.
"If you're racist, you're like–why can't they all be like him!" Touré zinged.
Watch Maher's panel criticize Cain below, via HBO:
Have a tip we should know? tips@mediaite.com