Rachel Maddow: Cheney Book Cover 'Pictorially Makes Him The Guy Who Killed Bin Laden'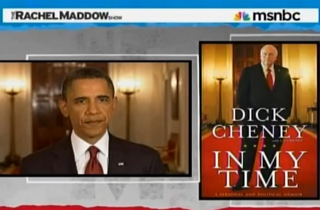 Dick Cheney's new book has a spiffy new cover out, depicting the former vice president looking stately in the White House. That image, from the East Room lighting down to the position of the flag on Cheney's lapel, has Rachel Maddow feeling a bit of deja vu, and a little bit of outrage, as the picture looks exactly like the image of President Barack Obama announcing that American troops had killed Osama bin Laden. 
Maddow, like many on a Sunday night, was not in political mode the night the news broke. Describing how he still does not know how Ben Affleck's latest film, The Town, ends because of her phone going off, to Maddow finding out bin Laden had been killed was a moment she will never forget, and the image of Obama delivering the news one that will never leave her. "That is the image for all of us," she argued today. "It is indelible." So it took little time for her to see Cheney's picture, "in the same suit and the same shirt and the same tie and the same flag pin, standing in the exact same place where Barack Obama announced the death of Osama bin Laden," to connect the dots. The cover, she argues, "pictorially makes him the guy who killed bin Laden," and "they might as well have Photoshopped Dick Cheney's head on one of those soldiers at Iwo Jima."
The image does bear a striking resemblance, from the outfit to the location, and given that many speeches are given in all parts of the White House it's hard to see why this room had to necessarily be the one for the photo. However, there is some wiggle room here for the optics. For one, the kind of people who would excitedly buy Dick Cheney's book are also likely to see not wearing a flag lapel pin as a sign of something fishy. The white shirt/red tie combination is also Politics 101 for anyone who regularly has to appear before cameras, and red, despite its history with the communist party, is generally considered the color of the Republican Party today. Maddow's best argument here is that the angle and expression on Cheney's face was adopted from the Obama announcement, a bizarre bit of optical plagiarism if there ever was one.
The segment via Fox News below:

Have a tip we should know? tips@mediaite.com