Rachel Maddow Doesn't Give a "Flying Flip" About White House in Focus on DADT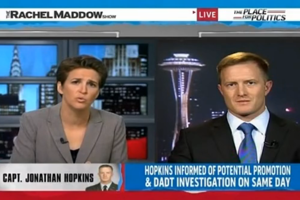 Tweaking the White House from the "professional left," MSNBC's Rachel Maddow last night encouraged the White House to stop enforcement of Don't Ask, Don't Tell advsing President Obama that if he wants "history to look kindly on you" he should get liberals to cheer for him instead of bashing them and complaining about their criticism.
Warning "we are about to have one of those cable news nights that makes the White House mad" but that she didn't give a "flying flip," Maddow featured three guests who are being forced out or facing removal from the military for being gay or lesbian under the Don't Ask, Don't Tell policy, including one of the the highest ranking members of the military to be investigated under the law.
Sarcastically asking why the White House is "mystified by liberals not being happy with them," Maddow interviewed Air Force Lt. Col.  Victor Fehrenbach who announced today that he is suing the military to stop his removal from the  Air Force under DADT. In his first television interview since filing, the fighter pilot is suing to have the Secretary of the Air Force to use the new enforcement standards put in place by Defense Secretary Gates.
'We need presidential leadership and courage to lead this fight," Fehrenbach said in encouraging repeal of DADT.
Maddow has long been a strong advocate of DADT repeal, often featuring gay and lesbian military members on her show.  Her show was the place where gay activist Daniel Choi first came out, which led to his removal from the Army,  and Fehrenbach has been a frequent guest.
"All of them are having their careers ended right now," Maddow said as she spoke about Fehernbach, Army Capt. Jonathan Hopkins, and West Point Cadet Katherine Miller. Saying it would take "some politcal capital and guts," Maddow chastised the White House for failing to follow-through on his pledge to Fehrenbach and others that he would end the policy that bans gays in the military.
While Feherenbach is a veteran television guest and Miller showed a steely response to questions, Maddow's intreview with Hopkins was the most compelling. About to be promoted to major, Hopkins was informed he was being investigated last year.  An officer who graduated fourth in his class at West Point, an emotional Hopkins said staying quiet about his sexual orientation was a "government mandated lie" and "I love the Army, I've always loved the Army."
Visit msnbc.com for breaking news, world news, and news about the economy
Have a tip we should know? tips@mediaite.com