Red Eye Crew Rate Julian Assange's Dancing: 'Like Every Guy At A Wedding But Like 100x Worse'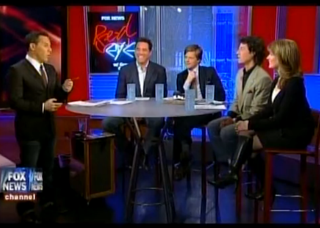 This week saw the arrival of perhaps the strangest and most hilarious bit of secret information related to the secret-exposing website Wikileaks and, shockingly, they didn't expose it: it's a video of website creator Julian Assange dancing in an Icelandic night club, failing to find dance partners for obvious reasons. The Red Eye crew took a shot at evaluating the moves, and the verdict? Assange should likely not audition for Dancing with the Stars.
"Are we sure that wasn't Tilda Swinton?" host Greg Gutfeld asked as he played the video of Assange flailing his arms to some sort of beat that was apparently alien to the music playing, taking up entirely too much dancefloor space and looking like a crab walking in circles. Gutfeld was almost merciful, equating him to "every guy at a wedding, but like a hundred times worse," and being shocked almost as much at the dancing as at the fact that it was done in public. Something about his complete lack of coordination left the panel somewhat at a loss for words, with Fox News anchor Patti Ann Browne merely needing to call Assange "that guy" at the club for the rest of the team to understand, while Bill Schulz and Dean Cain argued that this was more of a white people problem than an isolated Wikileaks incident. Meanwhile, Dana Vachon pondered what happened when the strobe lights turned off every split second, and came up with only one plausible conclusion: "during the moments of darkness, he was fathering children."
While most of the panel almost felt bad– or would have felt bad had this not been Julian Assange– Andy Levy chimed in at the halftime to add his belief that Assange is likely very happy to have seen the video leak. "I believe that he thinks he looks great," he noted, a testament, perhaps, to his delusion.
The clip via Fox News below:

Have a tip we should know? tips@mediaite.com