Red Eye Panel Bashes Mayor Bloomberg's 'Paternalism:' He's 'A Rich, Know-It-All Punk'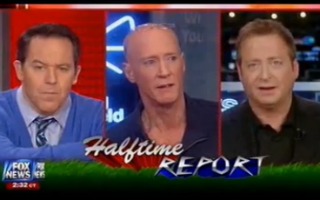 The controversy surrounding this year's New York City Marathon was the topic du jour (Ooh la la) on Friday's Red Eye. Andy Levy's Halftime Report kicked off by focusing on Imus producer Bernard McGuirk's less than glowing review of New York City mayor Michael Bloomberg's handling of the race.
"He was pissed off that he had to cancel it," said McGuirk of the Mayor's role in the marathon. "He didn't feel bad for the dead bodies that are still being recovered on Staten Island. He didn't care less. He is humiliated because he had to cancel his marathon. This guy is a Park Avenue clown who is totally insulated, that has no feelings for the average schmuck out that is suffering right now. He hasn't been to Staten Island, hasn't been to the Rockaways, hasn't been to Staten Breezy Point. And so, yeah, a rich, know-it-all punk."
"I don't think I understand how strongly you feel about this," joked host Greg Gutfeld.
Levy and panelist Michael Moynihan then walked down memory lane, reminiscing about how, post-blizzard, Bloomberg was criticized for the lack of snow plows… only to later go on to "win back" New Yorkers by… banning stuff?
Gutfeld felt Bloomberg's method of governing is "extremely paternalistic," telling citizens that, basically, "you don't know how to eat or smoke or drink or take care of yourself." And people lap it up.
Later, Moynihan and Levy discussed whether the electoral and popular vote would be split for Obama and Romney, respectively. They were, however, not willing to enter into a bet over it, a la The New York Times's Nate Silver.
We, uh, also learned about someone's… fascination… for Hummel figurines.
Watch, via Fox News:
Have a tip we should know? [email protected]