Red Eye Panel On Rep. Ryan Wine Scandal: 'Everything That Is Bad About Politics'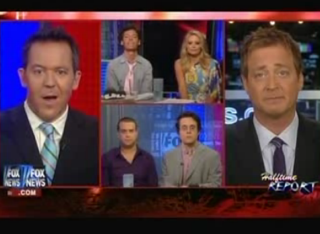 Republican budget leader Rep. Paul Ryan has gotten himself caught up in a bit of a mini-scandal over a $350 bottle of wine he and some economists enjoyed at a D.C. restaurant– or were enjoying before Rutgers Professor Susan Feinberg stormed up to their table and excoriated them for daring to propose budget cuts while drinking expensive wine. On last night's Red Eye, however, it was Feinberg who faced indiscriminate criticism for being "obnoxious" and "awful" in interrupting another meal to lecture.
Host Greg Gutfeld described the interaction as contentious, noting that it apparently culminated in one of the economists yelling obscenities at Feinberg, and posed the question of how, exactly, one is to react to a morally indignant patron at a restaurant approaching one's table to lecture on the ethics of expensive alcohol. For one, panelist Joe DeRosa didn't quite see the hypocrisy, as he had some of that in his life: "I'm a huge supporter of AIDS research, but that doesn't mean I'm going to stop banging around," he joked. He also later added the observation that Feinberg was also dining at the same restaurant– one that most of the people whose rights she claimed to be standing up for could not afford to go to. This also came up during the Halftime Report, where Andy Levy added that Feinberg was actually celebrating her birthday. "This is how she chose to celebrate her birthday," he deadpanned– figuring out how much money another table was spending.
Fellow panelist John DeVore was far more interested in Feinberg's behavior than Rep. Ryan's however, calling it "obnoxious" and complaining that her decision to interrupt Rep. Ryan was "the problem with everything– people spray their politics everywhere." Gutfeld then added what was later deemed a "Fox thing" to do: "yes, especially liberals– see what I did there?" (During the Halftime Report, Levy does actually express this sentiment, however, with the caveat that he objects to much of what both liberals and conservatives do).
As a public figure, however, Rep. Ryan is apt to be recognized in public, as Courtney Friel noted– the TMZ threat is alive and well. Plus, she added, "he should try some Franzia," which is not a sentiment that found any opposition in the present company.
The segment (and Halftime Report) via Fox News below:

Have a tip we should know? [email protected]