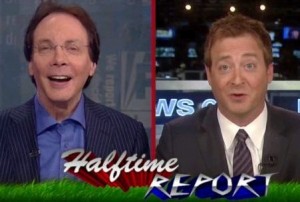 On today's edition of Red Eye, Andy Levy called out Alan Colmes for not acknowledging that there are members of the Occupy Wall Street protests who have engaged in less-than-civil means to spread their message. Levy brought up the continued acts of aggression and general chaotic nature of some Occupy Wall Street protestors, and asked Colmes why he thinks it is unfair of media outlets to show the more undesirable elements of the movement, when he had no such objections to tea party coverage.
Colmes stated that all the members of the tea party were "dregs," so capturing them in such a way may be unavoidable. Greg Gutfeld chimed in to ask how many tea partiers were arrested compared to OWS people. And to Gutfeld's point, a recent infographic released comparing the two movement found less than 50 tea partiers were arrested over the last three years, contrasted with over 1500 OWS protestors in just thirty days.
Colmes argued the more important point was one of civil disobedience, and pointed out that "every civil liberties person in the world has been arrested." Gutfeld brought up the several instances of protestors accused of rape, and Levy took the opportunity to explain to Colmes why the less respectable members of Occupy Wall Street need to be acknowledged and reported on.
"Obviously they're not all rapists, and they're not whatever, but it's getting to be a large enough sample that you've got to start wondering about what's going on there. And I'm not, it's not, it's obviously not the whole movement, it's not even close to the whole movement."
Colmes interjected to suggest they weren't even part of the movement, but Levy completely dismissed that notion.
"You can't say that. That's the easy way out, when you say, 'Oh, they're not part of the movement.' Guess what? You're the 99 percent. They are part of the fucking movement."
Watch the whole segment below, courtesy of Fox News:
Have a tip we should know? tips@mediaite.com
Josh Feldman - Senior Editor