Rep. Steve King Claims He Hasn't Heard Of A Girl Getting Pregnant From Statutory Rape Or Incest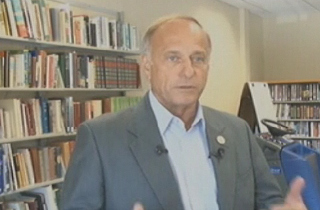 While the conservatives who have defended GOP Senate nominee Todd Akin are far and few between, they have mostly focused on defending him from the Republican Party establishment's attempt to oust him from the nomination — but they haven't defended his actual remarks that victims of "legitimate" rape do not get pregnant.
Speaking to Iowa's KMEG-TV Monday afternoon, however, conservative stalwart Rep. Steve King (R-IA) refused to condemn and seemingly defended Akin's assertion regarding pregnancy and rape, telling the reporter that he has never heard of a child getting pregnant from statutory rape or incest.
"Todd Akin is a strong Christian man, with a wonderful family," King said when asked about how both Republicans and Democrats have asked the embattled Akin to drop out of the Senate race following his comments.
The Iowan congressman also said that instead of focusing on Akin's remarks about abortion, Missouri voters should be more concerned with the big picture issues instead of what King believes to be a "petty" attack:
"I think this election should be about, how did Todd Akin vote and what did he vote for and what did he stand for and, in this case, I'm seeing the same thing, petty personal attacks substituting for strong policy," he said.
In the interview, King affirmed his support for the "No Taxpayer Funding for Abortion Act," which would ban federal abortion funding except in cases of "forcible rape." Currently, federal Medicaid funds must cover abortions for young victims of statutory rape or incest.
Rep. King claimed he's not aware of any such victims.
"Well I just haven't heard of that being a circumstance that's been brought to me in any personal way," he told the reporter, "and I'd be open to hearing discussion about that subject matter."
Watch below, via KMEG-TV:
— —
>> Follow Andrew Kirell (@AndrewKirell) on Twitter
Have a tip we should know? tips@mediaite.com