Rick Santelli Loses It Over 'Lunatic Republicans' Comment: 'What About Lunatics Who Spent $16.4 Trillion?'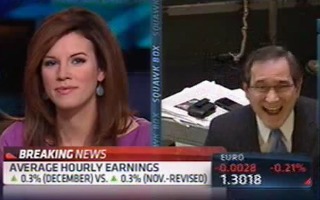 CNBC host Rick Santelli became visibly frustrated after cohost Kelly Evans after she read a comment from an "overseas analyst" who said that the economy is recovering but "lunatic Republicans" negotiating over the debt ceiling limit could scuttle that recovery. He became agitated over the notion that the party focusing on the debt is called "lunatics" for acknowledging that a crisis is on the horizon.

Evans read a statement from an "overseas analyst" who said that the "economy was recovering" and that he expected bond yields to increase in coming months.
The analyst said that the only obstacle he sees to the continued expansion of the U.S. economy were "lunatic Republicans" who may bring about an "insane technical default" when they attempt to negotiate spending cuts as part of a deal to increase the debt ceiling limit.
"That's the worry here," Evans concurred. "Will we have a self-inflicted wound – a gunshot to the head?"
"What about the lunatics that spent $16.4 trillion and want another check? Aren't they the crazies, Kelly," Santelli asked pointedly. "Why are the lunatics the people that say 'overspending and creating too much debt' are lunatics?'"
"If you think that we have a Congress that can't get our house in order, do you think that we're ever going to be able to worry about a long-term event and plan ahead," Santelli asked.
"No one, Rick, to your point is making those long-term reforms," Evans said in partial agreement.
"Childish," Santelli replied. "We need to get serious about this debt and quit calling people 'lunatics' that acknowledge it."
Watch the exchange below via CNBC:
> >Follow Noah Rothman (@Noah_C_Rothman) on Twitter
Have a tip we should know? tips@mediaite.com