Rubio: Yes, Indiana Law Lets Businesses Refuse to Service Same-Sex Marriages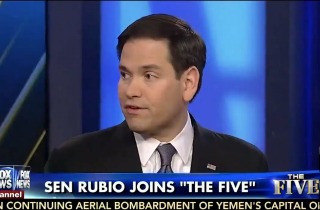 Sen. Marco Rubio (R), who is expected to announce a presidential bid in April, told the cast of The Five Monday afternoon that Indiana's new Religious Freedom Restoration Act would, in fact, allow people to cite religious grounds in refusing to do business with someone based on his or her sexual orientation — something that Gov. Mike Pence (R), who signed the bill, would not outright say when he attempted to clarify the intent of the bill on Sunday.
Rubio said Americans do not want to discriminate against anyone, adding the real question is whether someone should be discriminated against because of their deeply-held religious beliefs. He said, though, that no one is arguing that gay people should be denied service at a restaurant or a hotel. According to him, though, a photographer should not be punished for refusing to service a same-sex wedding if it's against his or her religious views.
"What about the religious liberties of Americans who do not want to feel compelled by law to provide a catering service or a photography service to a same-sex marriage that their faith teaches is wrong," Rubio said. "And that's a valid constitutional concern."
–RELATED: Indiana Lawmakers: We're Working to 'Fix' Controversial Law
Co-host Julie Roginsky pushed back, and asked him why people should be able to use religion to discriminate against same-sex marriages given laws already on the books that prevent discrimination against couples in interracial marriages based on religious beliefs. Rubio said that was a false equivalency.
"The issue we're talking about here is, should someone who provides a professional service be punished by the law because they refuse to provide that professional service to a ceremony that they believe is in violation to their faith. I think people have a right to live out their religious faith in their own lives. They can't impose it on you and your life, but they have a right to live it out in their own lives. And when you're asking someone who provides professional services to do something or be punished by law that violates their faith, you're violating that religious liberty that they have."
Speaking with George Stephanopoulos on ABC's This Week, Pence did not give any yes or no answers regarding whether the bill would, as Rubio said, allow a florist, photographer or caterer to deny services to a gay couple entering in a same-sex marriage.
Watch the video below, via Fox News:
[Image via screengrab]
— —
>>Follow Andrew Desiderio (@forza_desiderio) on Twitter
Have a tip we should know? tips@mediaite.com