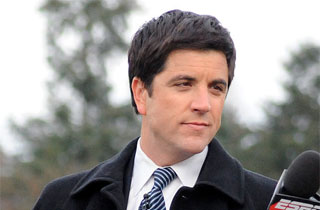 Josh Elliott used to be Good Morning America's news anchor, but he left last year for a role at NBC Sports.
But there's a report from Variety tonight saying that Elliott is in talks to return to GMA. Elliott, they report correctly, assumed he would be in line to replace either Bob Costas or Matt Lauer, but Elliott hasn't appeared much on The Today Show. True. Their report also accurately says that Elliott "tethered his career" to Jamie Horowitz, who lost his job as Today Show general manager after two months. The rest of the report is pretty much fiction.
This is the crucial line from the Variety "exclusive": ABC executives are "potentially open to a plan to buy Elliott out of his $4 million-a-year contract on NBC," and bring him back to GMA. Potentially open? Seriously?
We had heard this rumor weeks ago, investigated, and were and are assured by very reliable sources that it's "categorically untrue." ABC insiders say the show neither wants nor feels they need Elliott.
Not only do our sources say it's not true that he is returning, it's also completely untrue that he or his representatives have even had any conversations with relevant executives at ABC about coming back.
The speculation is that Elliott is trying to boost his value at NBC after Horowitz' departure, and apparently a number of other media outlets were pitched this spin before Variety bit.
An ABC spokesman tells Mediaite, "The rumormongering is ridiculous. None of this is true. We have the best on-air team in the business. We're all good." Unlike much of the PR spin we receive, this statement is actually true.
[image via screengrab]
— —
Follow Josh Feldman on Twitter: @feldmaniac
Have a tip we should know? tips@mediaite.com
Josh Feldman - Senior Editor