Rupert Murdoch Reacts To Ruling: A 'Victory For The President,' They're Doing 'High Fives' In The White House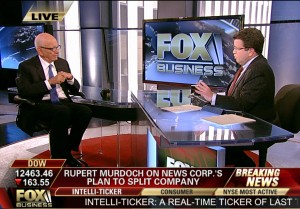 News Corp.'s Chairman and owner of Fox News Channel, Rupert Murdoch, appeared on his news network and Fox Business Network simultaneously on Thursday to react to the Supreme Court ruling that President Barack Obama's signature health care reform law could remain intact and the mandate could survive as long as it was classified as a tax. He said that this ruling represents a "big victory" for the President and that they are likely to be doing "high fives" in the White House.

RELATED: News Corp. To Split In Two, Separate Publishing From Entertainment Services
Fox News anchor Neil Cavuto asked Murdoch what he thought of the ruling.
"I'm a little surprised," said Murdoch. "It will be seen as a big victory for the President. They will all be doing high-fives at the moment in the White House. But, on the other hand, every poll showed it's not a popular bill. So, we will go into the election and fight over it there."
Murdoch said he does not believe that the law would add significantly to his soon-to-be two firms operating costs, but he worries how the law will impact the national budget deficit.
"I worry about this entitlement culture," said Murdoch. "We've seen where it's taken Greece. We've seen where it's taken France and Spain today. So, on a political level, I worry about it.
Murdoch said that the law continues to be, in his definition, a "mess."
Watch the segment below via Fox News Channel:
> >Follow Noah Rothman (@Noah_C_Rothman) on Twitter
Have a tip we should know? tips@mediaite.com