Russell Brand Did What In A Public Bathroom When He Was A Crack And Heroin Addict?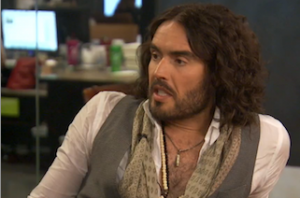 Comedian and actor Russell Brand made quite the admission during an appearance on HuffPost Live today. Host Josh Zepps asked Brand if he's ever been mistaken for gay, given his "effeminate, sort of flamboyant air." While Brand said he's always considered himself to be straight, back in the days when he was a "crack and heroin addict" he did once "masturbate a man to the point of orgasm in a public bathroom." But, he clarified, "it was for a television program."
Zepps noted, "that's the kind of thing that gay people tend not to do" but rather something you might find "closeted straight people" doing, for example "Republican senators."
Brand ensured Zepps that he was not "homophobic" and only did it in a bathroom because that was the only place he could convince the other man to cooperate, and film it for this mysteriously pornographic television show from the early part of his career.
"I must say, it wasn't for me," Brand remarked. "I didn't really enjoy it. My tendencies and inclinations towards women are very, very powerful. I like them very much. It's just a biological urge."
Presumably speaking of sex, whether its gay or straight, Brand said "this is not the area for morality. If something exists in nature and is not harmful to people that are vulnerable, let it go."
Watch video below, via HuffPost Live:
—
>> Follow Matt Wilstein (@TheMattWilstein) on Twitter
Have a tip we should know? tips@mediaite.com