S.E. Cupp Offers Olbermann Epic Farewell On GBTV: 'I Am Very Sorry Your TV Career Has Just Been Aborted'
S.E. Cupp Offers Keith Olbermann Epic Farewell...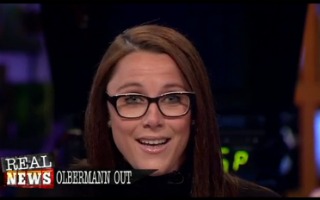 Columnist S.E. Cupp and former Current TV host Keith Olbermann aren't exactly wearing matching half heart necklaces dedicated to one another. Nonetheless, Cupp so very graciously shared a few parting words with the man who once Tweeted that "[o]n so many levels she's a perfect demonstration of the necessity of the work Planned Parenthood does" before trying to explain away his insult by saying that "I never mentioned abortion. I said her parents could have used counseling by PP rather than get the results they did."
RELATED: Keith Olbermann Says S.E. Cupp's Parents Should Have Used Planned Parenthood
Here's what Cupp had to say to Mr. Olbermann:
I know this happened back in the Jurassic Period, three days ago, but we haven't had a show since Keith Olbermann was summarily fired by Current TV for breach of contract — for what I assume is not going to work and being a huge dick.

I'd just like to deliver my own very short special commentary, as someone who has been the target of his particular brand of scathing intellectual analysis.

You might expect me to gloat at this news, gloat at the fact that there are no networks left for you, Mr. Olbermann, to broadcast your puerile misogyny from. But I take no pleasure. I am not gloating. I take no pleasure in the news of your failed Current TV show, which looked like it was broadcast from someone's basement. I don't where left to go after a basement. The bathroom stall, maybe? Delivering your epithets to creepy fanboys who you'd spend your afternoons Tweeting with.

I am not giddy. I am not gleeful. I have only pity. And if I only make 1/100th of the money that you have over the course of your long career, Mr. Olbermann, I will still pity you for having had to spend the bulk of your immense brainpower ranking people on their "worstness."

You once suggested that my parents never should have had me. I am very sorry that your television career has just been aborted.
Da and amn.
Have a look, courtesy of GBTV:
Have a tip we should know? tips@mediaite.com