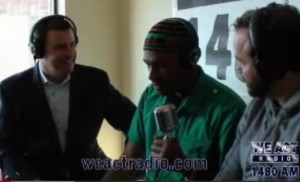 Over the years, reporter David Shuster has achieved a certain level of notoriety/celebrity by virtue of some high-voltage dustups with the likes of John Ziegler, the late Andrew Breitbart, James O'Keefe, and Hillary Clinton's presidential campaign. Now a linchpin at Current TV, Shuster is also lending his high profile to progressive Washington DC radio station We Act Radio (1480AM), a labor of love that is off to a better start than its creators could ever have expected.
I visited the station in the dead of night a few months ago, in the heart of "the other Washington, DC," the one you never see Chuck Todd or Ed Henry standing in front of, and in that light, it was hard for me to see what co-founders Alex Lawson (an entrepreneur and activist with whom I've crossed paths many times over the years) and Kymone Freeman see in their baby. Nestled in a row of storefronts amid the Anacostia neighborhood's wrecked buildings and construction detours, We Act headquarters sure didn't look like much.
Cliff Schecter, who does PR for, and is a co-owner of, the station, had arranged for me to meet the station manager that night, but my crummy GPS got me lost, and by the time I got there, everyone was gone. Washington, unlike The Big Apple, decidedly does sleep, and I found myself strolling the empty MLK Ave. block wondering what Alex had gotten himself into. Age and experience have made me pessimistic, and I could only see doom in my surroundings.
Several weeks later, though, I had the chance to visit We Act with Alex, to see it in action, and to talk to Alex's partner Kymone Freeman, station manager Ron Pinchback (Kymone and Ron also co-host "Speakeasy" Monday–Friday, 6pm–7pm), and the station's marquee talent, David Shuster, and I think now, I get it. In the light of day, the We Act storefront has more of a Do The Right Thing vibe, an evident connection to the neighborhood in which it resides. The station is located on the old site of Mama Cole's Cafe´, a venerable South East DC soul food spot until it closed in 2008. Evangeline Cole-Thompson, Mama Cole, passed away in November. You can still see the "Cole's Cafe" sign on the storefront, and the basement of the station still features an old wall clock with spatulas for hands, and a giant walk-in fridge.
The station's new decor is decidedly afro-centric, as well, with a revolutionary flair. A flyer for a Gil Scott-Heron retrospective brings the boast that the station ran the longest tribute ever to the late poet, at three months. While I wait to interview the station's brain trust, people drop in to congratulate Kymone, give feedback, and just banter about the neighborhood. "We get a lot of foot traffic," Kymone says. "We welcome it. Being on Martin Luther King Avenue is symbolic of our mission to give people a voice, to continue the work that Dr. King started."
Officially launched January 1, 2012, We Act is a 5,000 watt ("of full truth-telling power," says Kymone) AM station that covers DC, northern Virginia, and southern Maryland, which, per FCC rules, drops to 500 watts after sunset. In the modern media landscape, however, those "terrestrial limitations" mean less than they used to. Listeners can tune in live online, or on a mobile device using the "Tune-in" app for mobile, or a host of other methods. "There are two separate individuals from New Zealand who listen to this station via some website that hosts radio shows." Alex says.
We Act relies heavily on syndicated content from progressive radio stars like Thom Hartmann, Bill Press, Stephanie Miller, and Ed Schultz, who, Lawson points out, had no broadcast presence in Washington, DC before We Act, despite the fact that Hartmann and Press both broadcast from DC.
But what makes them special is their local connection, and their homegrown talent. "Our slogan is 'Do Something,'" Alex says. "Our mission is to raise people's voices, make them heard."
The station produces about 30 hours of local programming, and in its short life, has become a fixture in the community.
"The reason we moved to Anacostia is that we wanted to be a community-based radio station," General Manager Ron Pinchback says. "Everyone involved in this is putting in blood, sweat, tears, and money into it because we all believe in what we're doing here, raising people's voices."
Among the bleeders and sweaters is David Shuster, whom Pinchback describes as a "consummate professional. From jump street, his commitment was unparalleled."
Shuster's involvement with We Act Radio superficially mirrors that of Keith Olbermann's with Current TV; both were hired to give a jolt to progressive upstart media outlets, and both were instrumental in their employers' early successes. The comparison diverges significantly from there, however, as Shuster is not breaking We Act's bank, and as Ron says, "There's no ego involved."
In fact, Shuster says he and Kymone briefly butted heads over Shuster's choice of beverage vessel. "Kymone didn't want me drinking water out of a cup in the studio, because it might spill on the equipment," he tells me. Shuster brings his water in a bottle now.
Shuster's "Take Action News" program airs Saturdays from Noon-3pm ET in DC and 4-7pm CT, and has already extended We Act's reach, having just been syndicated in Chicago. "I've always been a firm believer in local news," Shuster says, "because it's an  opportunity to connect with the community where you live."
"We're not up in some big building, broadcasting down on the people, we're with the people," he says, invoking the Do The Right Thing vibe I noted on my second trip to the station. He also notes the way We Act bridges the gap between national issues and local impact. "Too many radio stations, all they do is syndicated programming, it's just piped in from some satellite someplace, and they don't have much of a connection to the community."
He talks about one recent program, Discovering Technology (Disco Tech) at the Thurgood Marshall Academy, that allowed local residents to learn to use the internet, and how his station was able to direct people to that program. "To have that nationally syndicated programming, to be on a syndicated radio show, yet be able to direct people to something in the community like that," Shuster says, "that kind of connection is very powerful."
Shuster's enthusiasm and affection for the station are palpable, and are shared by everyone involved, but We Act doesn't just run on good intentions. While they're not about to make Clear Channel quake in their boots anytime soon, scoring a syndication deal for their flagship program so quickly is a coup, and they're also in talks with a local TV station to simulcast some of their local programming. The producers I spoke to are resourceful, explaining how they've been able to work around various technical limitations as the station ramps up its capabilities.
"There was some fear that, when we launched, we would just disappear." Alex told me, but that fear has been put to rest. Only time will tell how far We Act radio will go, in a very tough business, but don't bet against them. They made a believer out of me.
Have a tip we should know? tips@mediaite.com