S.E. Cupp Urges Conservatives To Back Gay Adoption: Not 'Comfortable,' But Is A 'Moral Imperative'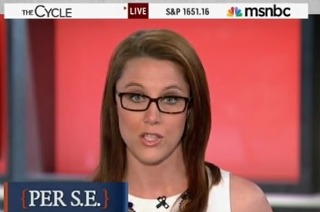 On Tuesday, MSNBC host and New York Daily News columnist S.E. Cupp addressed what she thinks is a deficiency in the conservative political platform relating to issues relating to the promotion of life and parenthood: support for adoption rights. Cupp said that the GOP would be well served to aggressively support the right of all parents, both straight and gay, to adopt legally. She said this is both a "moral imperative" and "good politics."

Cupp began her segment on MSNBC's The Cycle highlighting the values promoted by the A&E reality program Duck Dynasty. She said that this show counters the values elevated by other reality shows that promote teen pregnancy and promiscuity.
"It's a series that should be applauded for its moral fortitude and honesty," Cupp opined. "It made me realize that the pro-life movement has been missing something and Republicans have dropped the ball."
She said that the pro-life and conservative political movements need to make celebrating and reducing the barriers to legal adoption a top priority.
"While it's right and important that we oppose the liberal Planned Parenthood abortion agenda, we haven't offered women a compelling alternative with a strident voice," she continued.
"We also have to embrace gay adoption," Cupp declared. "This will not be comfortable, but it is morally imperative. It's also good politics at a time when it seems the abortion conversation is fraught with so many perils and pitfalls for conservative politicians."
"We should want every child to be born into loving homes," Cupp said. "The loving homes are there, ready, and waiting. Let's make this a top priority."
Watch the clip below via MSNBC:
> >Follow Noah Rothman (@NoahCRothman) on Twitter
Have a tip we should know? tips@mediaite.com