Sandusky's Lawyer To Anderson Cooper: 'I Promised The Jury Jerry Would Testify'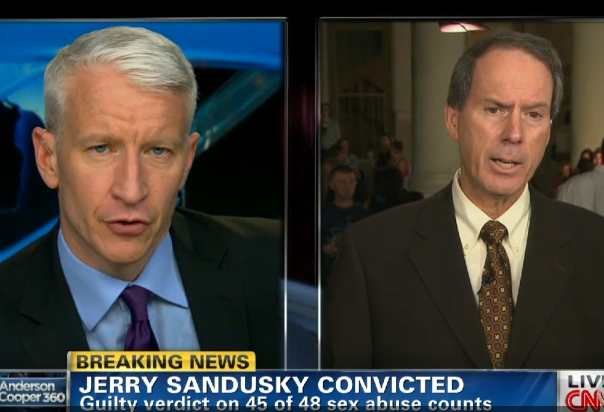 "Tomorrow I gather my wits and we start thinking about sentencing," attorney Joe Mendiola told Anderson Cooper last night in his first interview after the jury announced a verdict 43 times finding Jerry Sandusky guilty of child sex abuse. The attorney argued he saw a path in the appeals process to get Sandusky out, and that he had "promised" Sandusky would testify and had to rescind that because of Sandusky's son's declaration that he too had been abused.

RELATED: Jerry Sandusky Found Guilty On 45 Of 48 Counts
"If you win on one of the appeal issues, everything probably falls," Amendola told Cooper, arguing that no matter how many charges Sandusky has against him, one legal foible can cost the court the entire decision. Amendola reiterated that he did not want a plea deal, nor did Sandusky ever claim anything but innocence or consider anything but a trial. "For better or worse," he continued, "none of us were there when any of these things happened."
Amendola then attacked the Commonwealth of Virginia for bringing in "literally at the last moment" Matt Sandusky, the adopted son that claimed abusy himself this week. "At that point, I objected to the surprise and explained to the judge… we had always intended to testify, and it tremendously undercut our defense." He called it a "really bad situation" for him to cancel Sandusky's plan to testify because he "promised the jury" he would, but it would have been "absolutely catastrophic" to have Sandusky's testimony followed up with his son. He did say he had "all the other five siblings as well as Dottie [Sandusky, his wife] prepared to testify to rebut what Matt had said," but he didn't seem confident that that would have changed things.
The interview via CNN below:



—–
» Follow Frances Martel on Twitter
Have a tip we should know? tips@mediaite.com