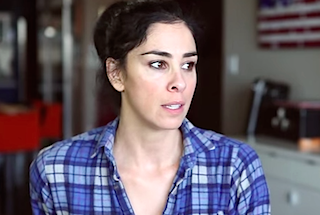 Last week, an organization called Levo League released a video PSA in which comedian Sarah Silverman told an anecdote about a time she was paid less than a man for the same job. Now, after the comedy club owner she named in the story disputed the details, Silverman issued an apology statement to Salon, expressing her "regrets" over the mischaracterization of the situation.
In the original video, Silverman recounted a time that she did a set at the New York Comedy Club alongside her friend, comedian Todd Barry. While Barry was paid $60 that night, Silverman only got $10. "We did the exact same time, back to back on the same show," she said. So, she went into the office of owner Al Martin and confronted him about the discrepancy, at which point she said he asked innocently, "Oh, did you want a $60 spot?"
"It was symbolic, I didn't need $60," Silverman said. "But it's, um, you know, it's pretty shitty."
Shortly after the video was released, Martin posted a note on the Facebook page for his current club, alleging that unlike Barry, who was booked to perform that night, Silverman showed up for a "guest spot," which does not require the same payment. "I gave you some car fare, which actually is more than almost any club would have given for a GUEST Spot," he wrote. "Funny how in your attempt to become a super hero with a noble cause, you forgot that little fact."
In her statement to Salon, Silverman explained the situation like this:
All I can say is I remember that story exactly how I said it. I know that Todd called the club earlier in the day to let them know I was in town if they wanted me to do a set. They put me up for a 15 min spot just after Todd's 15 min spot. I didn't expect to get paid, that's not why I was there, but when I got off stage Al, the sweet club owner, paid me 10 bucks and I signed the payment sheet. I was like, oh, nice. I inferred from that that this was a paid spot not a guest spot. Either way I would have been fine. Then when Todd pointed out that he received 60 dollars for the same spot I went back inside and asked Al why Todd got sixty dollars and I got ten. That's when he certainly could have said "Because it was a guest spot, Sarah. I was just being super nice and gave you ten dollars for cab money." But instead, (and I will always remember this exactly how he said it because it was unbelievably hilarious) he said, "Oh- did you want a $60 spot?"
Silverman added that she "regrets" mentioning Martin by name, saying she should have shared a "nameless, faceless anecdote."
"This is also HARDLY an example of the wage gap and can only do that very true reality a terrible disservice if I were trying to make it one," she added. "To Al, I truly am sorry to bring you into this as you employ women and pay them the same as the men I'm sure. To the maniacs who want to use this as a chit against women's issues, I ask that you please don't. Because that would be super shitty. Feel free to aim your vitriol at me but leave this issue of working women out of it, K?"
In a follow-up Facebook post, Martin wrote, "It takes a big person to apologize and and today Sarah proved she is that kind of person… I fully accept the apology." He also invited Silverman to appear at the Broadway Comedy Club anytime, "whether it is a paid or guest spot in advance."
The video in question remains on Levo's YouTube channel without any note or indication that the story told in it has been debunked, so to speak. However, it is not listed as one of the "Office Hours" video on the group's website.
Watch video below, via Levo:
[Photo via screengrab]
— —
>> Follow Matt Wilstein (@TheMattWilstein) on Twitter
Have a tip we should know? tips@mediaite.com