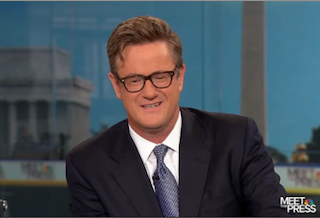 As one of the few Republicans on MSNBC, Joe Scarborough is used to his fellow conservatives calling him a "RINO" for his somewhat more moderate views. During a discussion about the Affordable Care Act on this past Sunday's Meet The Press, Scarborough acknowledged this reality, saying all one would have to do is "ask Republicans" on Capitol Hill to discover that he's not particularly "partisan."
Towards the end of the program, host David Gregory asked his panel what will happen if HealthCare.gov does not become get up and running properly. "What happens to the ultimate goal of helping people that are supposed to be helped?" he asked.
While Rep. Donna Edwards (D-MD) expressed faith that the Obama Administration would address and fix the problems with Obamacare's online system, Scarborough said that President Obama will ultimately be forced to work with Republicans in Congress.
When Edwards pressed him to admit that Republicans also have an "obligation" to work with Obama, Scarborough explained where he was coming from. "I try not to be partisan, I really try not to," he said. "And ask Republicans, they will tell you, a long list of Republican on Capitol Hill will tell you I succeed in not being partisan."
After sufficiently convincing his fellow panelists that he's not merely speaking as a "partisan" Republican, Scarborough proceeded to accuse Obama to trying to "ram" Obamacare "down the Republicans' throat." He added, "If you're talking about any sweeping new plan that's going to transform things, you need both parties involved."
While in the past, Scarborough has angrily dismissed the "RINO" label in an attempt to ease the Republican Party away from a more aggressive brand of conservatism; this time he went in the opposite direction. By emphasizing how moderate Republicans in Congress believe him to be, Scarborough was able to grant his conservative criticism of the Obama Administration more weight.
Watch video below, via NBC:
Visit NBCNews.com for breaking news, world news, and news about the economy
[photo via screengrab]
— —
>> Follow Matt Wilstein (@TheMattWilstein) on Twitter
Have a tip we should know? [email protected]