Scarborough Tears Into Obama for Hillary Defense: 'A Criminal Investigation is Being Rigged'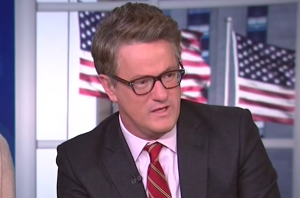 MSNBC Morning Joe host Joe Scarborough tore into President Barack Obama Monday after the president appeared to defend his former Secretary of State Hillary Clinton, saying during a Fox News Sunday interview that Clinton's emails did not endanger national security.
"Can you guys believe what you just heard?" Scarborough asked his panel after playing the clip. "He said he wasn't going to talk to his attorney general about the pending investigation, but he just did. As he did back in October when he said, 'No national security issues here, nothing to see, move along.'"
Scarborough pointed out that when Obama made comments in October saying Clinton didn't put national security at risk, The New York Times ran a piece reporting that the FBI was angry that the president appeared to be taking sides before the investigation was complete.
"And he just did it again!" he said. "And then in the same interview said, 'But I'm not talking to my attorney general about it.' Talk about a rigged process."
Bloomberg Politics' Mark Halperin agreed and called Obama's comments "ill-advised," saying Obama should have just played it mum. "I don't know why he went on at such length defending her, because in theory he shouldn't really know the facts of the case," he pointed out.
Scarborough said it was the FBI director he felt bad for. "…You had been killing yourself to run a fair investigation and twice the President of the United States has made a fool of you by saying his investigation doesn't matter, because the scales — the lady's not blindfolded, I'm tipping the scales right now."
"A criminal investigation is being rigged," he concluded.
Watch above, via MSNBC.
[Image via screengrab]
——
>>Follow Alex Griswold (@HashtagGriswold) on Twitter
Have a tip we should know? tips@mediaite.com