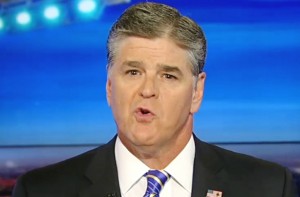 Editor's Note: We are reposting this piece from Sept 20th, 2016.
— —
Fox News' Sean Hannity said Monday that Donald Trump did in fact oppose the Iraq War before it began, claiming that Trump told him so in private conversations at the time.
Trump told Hannity's Fox colleague Howard Kurtz on Sunday that he did oppose the war in private debates with Hannity. "Speak to Sean Hannity, who's a terrific guy by the way, speak to him, and he and I used to have arguments about the Iraq War," he said on MediaBuzz. "We used to have arguments about it, big arguments, and you could speak to Sean and that was before the war started."
The Washington Post's Erik Wemple was curious about that claim, and reached out to Hannity on Twitter.
@seanhannity Donald Trump said he had "big arguments" with you about the Iraq war, in which he opposed it b4 it happened. That true?

— ErikWemple (@ErikWemple) September 19, 2016
Erik 100% true. He would watch the show and call after and we argued a lot about it. https://t.co/SwonJFkhP5

— Sean Hannity (@seanhannity) September 20, 2016
It's worth noting that Hannity is reportedly an "informal advisor" to Trump and openly supports the Republican candidate, making him less than neutral on the matter. It's also worth noting that Trump didn't just claim to haved oppose the Iraq War before it began, but to have publicly opposed the war, a claim fact-checkers have found to be incorrect.
[Image via screengrab]
—
>>Follow Alex Griswold (@HashtagGriswold) on Twitter
Have a tip we should know? tips@mediaite.com