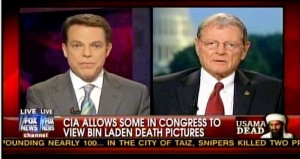 Oklahoma senator Jim Inhofe, a senior member of the Senate Armed Services Committee and one of the few politicians who was given a look at the much-discussed photos of Osama Bin Laden's corpse at CIA headquarters, decided to share details of the images with Fox News' Shepard Smith.
There are, apparently, 9 photos taken at the compound and 3 photos from the ship used for bin Laden's burial at sea. Inhofe confirmed that the photographs from the compound, taken right after SEAL Team Six members shot and killed bin Laden, are indeed "gruesome," and clarified that he was also shown three older photos as a means of comparison. So. What, exactly, constitutes as gruesome? Inhofe described two, close-up pictures taken of bin Laden's ear, adding that he is unsure whether a bullet went through the terrorist's ear and out his eye, or went through his ear after entering his head through his eye socket. The Senator added that brain matter was visible exiting through the socket.
Inhofe added that bin Laden's beard was shorter and grayer than it had appeared in older photos, and that he was wearing "underwear." (Smith, amusingly, seemed to find this rather shocking.)
Two of the photos taken aboard the ship, Inhofe continued, showed bin Laden's body being cleaned and prepared for burial. He adds that it was easier to confirm bin Laden's identity in these photos because the brain matter had been cleared away. He is unsure about rumors that a portion of bin Laden's skull is missing, adding that much of it appeared to be crushed around the eye socket that had been impacted.
The Senator hopes that the American public will at least be able to view the (less "gruesome") photos taken aboard the ship, and says he is glad he was able to see them so he could inform people about what they show.
Watch the clip, via Fox News:
Have a tip we should know? tips@mediaite.com