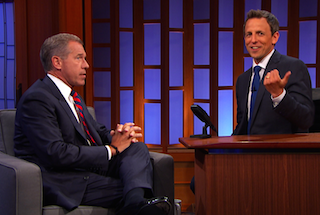 Seth Meyers dropped by Howard Stern's SiriusXM show on Monday to discuss SNL40, his new late night competition and, of course, Brian Williams. The suspended NBC Nightly News anchor was one of his first guests on Late Night and just last week Meyers was the first to get Allison Williams to comment on her father's situation, so Stern wanted to know how his guest was feeling about the whole thing.
Meyers, who is "very friendly" with both Brian and Allison Williams, told Stern he views Williams as a "great storyteller" and defended his tendency to "embellish" his experiences on late night talk shows over the years. The Late Night host also "took issue" with those who fault Williams for trying to be "entertaining," saying people clearly want a news anchor who has a "sense of humor," given his place at the top of the evening news ratings.
As for Williams ability to come back after his six month suspension, Meyers said it would immediately become clear from the numbers. "All that matters to NBC is, 'Are enough people OK with it for it to work again?'" he said.
Meyers told Stern he has not made any jokes about Williams on his show — unlike some other, non-NBC late night hosts — but that it's not because the network said it was off-limits. But because he knows and trusts the anchor, Meyers said he's decided to give him the "benefit of the doubt."
Then, because it's Howard Stern, the two spent to next few minutes talking about the Allison Williams "ass-eating" scene from Girls.
Listen to audio below, via SiriusXM's Howard 100:
[Photo via NBC]
— —
>> Follow Matt Wilstein (@TheMattWilstein) on Twitter
Have a tip we should know? tips@mediaite.com