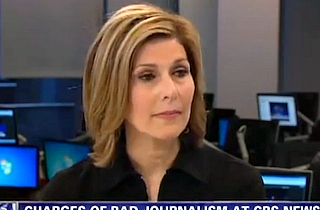 In a detailed and thorough interview with Sharyl Attkisson, an investigative reporter who recently resigned from CBS News and has since accused the network of derailing her stories critical of the Obama administration, Reliable Sources host Brian Stelter pressed Attkisson on charges that her reporting has been inaccurate and biased, charges she refuted. The most pointed responses came when Attkisson suggested Media Matters may have been encouraged to go after her by its contributors.

"It's a far-left blog group that I think holds itself out to be sort of an independent media watchdog group," Attkisson said. "They clearly targeted me at some point…When I persisted with Fast and Furious and some of the green energy stories I was doing, I clearly at some point became a target. I don't know if someone paid them to do it or they just took it on their own."
Stelter asked if she really thought it possible that Media Matters was paid off.
RELATED: Sharyl Attkisson Slams CBS News, Obama Admin's 'Chilling Effect' on Reporting
"Well, they get contributions," Attkisson said. "That's what some of these groups do, absolutely."
Stelter also asked Attkisson if she had a takeaway for viewers about her reporting and its various controversies, which include not only stories focused on the Obama administration but also vaccinations.
"Look at the big picture," Attkisson said. "Gather the information yourself. Do your thinking. Be suspect of, maybe not overly suspicious, but suspect of the material that you see when you're not looking at the firsthand source. Because there are very sophisticated efforts to manipulate the images and the material you see every day, and we could all be a little more savvy about that."
Watch the entire interview below, via CNN:
Part 2:
[Image via screengrab]
——
>> Follow Evan McMurry (@evanmcmurry) on Twitter
Have a tip we should know? tips@mediaite.com