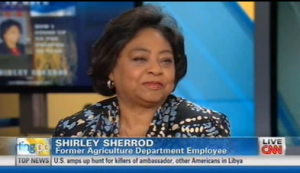 Former Georgia State Director for the USDA Shirley Sherrod visited Starting Point Thursday morning to discuss her new book, The Courage to Hope, and how she feels now about the edited video that resulted in false accusations of racism and her eventual resignation from her position.
"I've really never looked for the limelight," she said of the experience. "To have my whole life, my — well, to be cast as a racist, something I had worked against all of my life, was just so unbelievable. But it was good to have — to be able to use the press, again, to help get the truth out, which is what I wanted to do."
In her book, Sherrod writes that she was disappointed that President Obama had been "so easily cowed by right-wing bullies." Despite this, she says, she still supports him and think he's done a great job. Host Brooke Baldwin asked Sherrod what's changed, pointing to a passage in the book where she asks, "Where's my audacious President?" Sherrod responded by noting how the President is challenged so often in his role as commander-in-chief.
As for Andrew Breitbart, the conservative firebrand who posted the edited clip of Sherrod, she shares that, although she never had the chance to meet or speak with the recently-deceased media figure, she has forgiven him — this, she notes, despite the fact that he never apologized to her for the clip.
"When you look at my life," said Sherrod, "I've had these — I call them bumps in the road. You get beyond them and keep working. keep going."
Watch, via CNN:
Have a tip we should know? tips@mediaite.com