Spitzer Tells Matthews He Would 'Fire' Gov't Employee Who Acted Like Weiner: He Should Not Be Mayor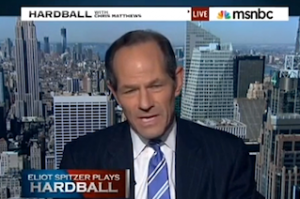 Former New York governor and current New York City comptroller candidate Eliot Spitzer made his first major comments about the latest round of damning evidence surrounding New York mayoral candidate Anthony Weiner Monday afternoon on MSNBC's Hardball. Spitzer told Matthews he would likely "fire" any public official who "used their office equipment to engage in the kind of past time that Anthony Weiner has been involved in" and agreed with Matthews that Weiner should not be mayor of New York City.
Pointing out Spitzer potential role in overseeing public officials in New York City if he is elected comptroller, Matthews asked the candidate if he would fire someone who used their work computer to engage in the type of "sexting" activity that Weiner has admitted to. "I think the answer is yes," Spitzer answered. "We have had a number of instances over the years where inevitably, of course, municipal employees, state employees used computers and the like for improper purposes. There is an appropriate sanction for that and there should be." He confirms that would include the mayor.
Later in the interview, Matthews hit Spitzer with an even more direct question concerning Weiner, this time due to prodding from his executive producer in his ear. "If you had to vote for mayor right now, who would you vote for?" When Spitzer resisted committing to a candidate, Matthews goaded him. "Just answer the question," he said. "Show that you're different than most politicians… You're not going to vote for Anthony Weiner, can you just say that now? You don't think he should be mayor of New York."
"Fair point," Spitzer replied succinctly. "That is correct."
The irony around Spitzer's criticism of Weiner could not have been lost on most people tuning in on MSNBC. He resigned as governor of New York in 2008 after a major prostitution scandal came to light. Weiner resigned from Congress just three years later.
Watch video below, via MSNBC:
—
>> Follow Matt Wilstein (@TheMattWilstein) on Twitter
Have a tip we should know? tips@mediaite.com