Stewart Tears Into Media For 2016 Election Speculation: They Have Attention Span Of A 'Concussed Goldfish'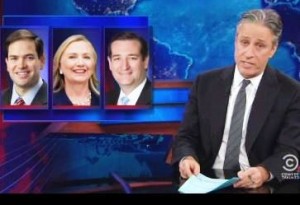 Jon Stewart tonight had some fun indulging in horse-race politics and the too-early speculation over the 2016 presidential race. To Stewart, it "seems like only yesterday" that Obama was re-elected, but he'll spend the rest of his term "up shit's creek" and the only thing he can take solace in is that the media has the attention span of a "concussed goldfish," and so in the midst of all this pundits still find time to engage in baseless speculation over the 2016 election.
There are over 1000 days to go before people start voting in the 2016 primary elections, yet the speculation over Marco Rubio, Hillary Clinton, and Ted Cruz will not die. Stewart mockingly intoned, "With zero states reporting or caring, I feel very comfortable calling the Democratic primary for Hillary Clinton."
Stewart also highlighted how Obama's legacy will be in part that he changed the expectations of the presidency so that the idea of a minority president is now commonplace. So even if "one or two old white fellas" may get into the 2016 race (Joe Biden), they'll have to climb an uphill battle.
Contributor Larry Wilmore came on to argue that the country is not ready just yet to say goodbye to a black president. Comparing Obama to Jackie Robinson, Wilmore said, "Black people didn't just get one at bat and we're done."
Watch the video below, via Comedy Central:
—–
Follow Josh Feldman on Twitter: @feldmaniac
Have a tip we should know? tips@mediaite.com
Josh Feldman - Senior Editor