Super Bowl XLV: Most-Watched TV Show In History (Except, It's Not. Not Even Close)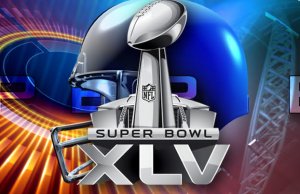 If you dipped into the social media this afternoon, you've been exposed to the mass hysteria over television ratings for Super Bowl XLV. ABC's Jake Tapper tweeted "Super Bowl XLV most watched program ever, pushing last M*A*S*H to 3rd." And the Houston Chronicle updated its website with the headline, "Super Bowl XLV Most-Watched TV Show Ever." Only, it's not. Not. Even. Close.
Here's how it breaks down:

The Super Bowl has smashed ratings records for four years running–in the U.S. The game averaged 111 million viewers, up from 106.5 million last year. The last episode of M*A*S*H held a U.S. ratings record for years, from 1983 to 2010, with an average of 106 million.
But as big as the Super Bowl was, it can't claim the most-watched show in TV history. 600 million people watched the Apollo 11 landing on the moon way back in 1969, and last year's rescue of the Chilean miners is estimated to have reached a global audience of one billion viewers. The opening ceremony of the 2008 Beijing Olympics hit a viewership estimated at anywhere between 600 million and one billion.
And even in a direct head-to-head matchup of sports final to sports final, the mighty Super Bowl takes a backseat to that other "football" the world watches. The World Cup final last year between the Netherlands and Spain hit an estimated global audience of 700 million.
Nielsen ratings are, of course, only estimates, and all global ratings figures are best guesses. The Super Bowl may have had significant viewership outside the United States, which would boost its overall numbers, but likely not enough to claim the world record.
Have a tip we should know? tips@mediaite.com