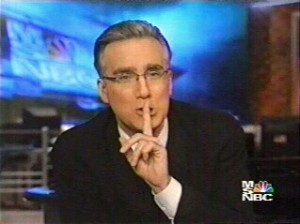 Last month the cable news world was left flat-footed by the surprising announcement that Keith Olbermann was leaving the MSNBC airwaves. The controversial firebrand anchor and leading liberal pundit was seen by many as the programming tent-pole at MSNBC, but recent battles with management over internal rules seemed to leave the relationship is disrepair. Shortly after his departure, many cable news watchdogs wondered what his next step may be. It now appears that we'll know the answer tomorrow morning according to a release from a PR Firm ostensibly hired by Olbermann (and his partners.) Update below!
Moments ago, Mediaite received an email from a publicist announcing plans for a conference call tomorrow in which Olbermann and his partners "will make an exciting announcement regarding the next chapter in his remarkable career." No further details have yet emerged, leaving us to only guess as to what to expect. We do know that the plans appear to be big enough to have warranted to employ a PR firm (which is no small expense.) And there are some other facts at play that can inform some theories about what one could reasonably expect.
While no one knows the specifics of the exit agreement between MSNBC and Olbermann, we have reported that there is a six to nine month non-compete clause that would ostensibly keep Olbermann off television. So what can we expect to learn in this announcement? Many have suggested that Olbermann's next move is starting an online entity that would provide an appropriate platform for the prodigious thought leader of the left, but also a hub for his legions of fans.
Former MSNBC colleague David Shuster reported a few weeks ago on CNN's Reliable Sources that Olbermann had been quite moved by the outpouring of support that he felt from his suspension, that culminated in over 250,000 signatures on a petition to bring him back to air. As Mediaite's Alex Alvarez surmised at the time, Olbermann already has the community of audience (and clearly a strong point of view), all he needs now is a content management system and a domain.
Is that what Olbermann's next step? Honestly we have no idea. But we will find out tomorrow at 11am.
Update: A Mediaite tipster points out that a simple whois search reveals that the domain names "theolbermannshow.com" and "thekeitholbermannshow.com" were registered January 19th, 2011, just two days before his last appearance on MSNBC.
Have a tip we should know? [email protected]