Piers Morgan To Howard Stern: I Could Understand CNN Losing To Fox, "But Rachel Maddow, Seriously?"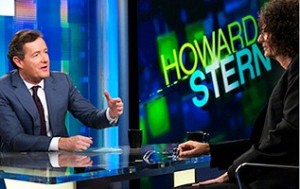 In the ongoing "feud" between "King of All Media" Howard Stern and the self-designated challenger to that throne, CNN's Piers Morgan, Morgan appeared on Stern's radio show in an apparent attempt to end one war, but to potentially open battles on a new front. Dismissing some of his cable competition as boring and predictable, Morgan declared, "I don't have to turn on Rachel Maddow or Glenn Beck to know what they're going to be saying."
Stern encouraged Piers to stop thinking they were actually feuding when Piers' ratings are currently not great, but Piers insisted his show airs in 220 countries and to 350 million people, and that he is a worldwide star unlike Stern. Stern joked that CNN might reach that many people, but tells Piers "you're reaching three people" and wasn't concerned if Piers was more famous than him in the Congo.
With the "feud" humorously brushed aside, Piers was able to provide some interesting perspective on CNN and the cable news landscape:
"CNN's a weird business, because everybody talks about it as if it's some kind of failure because there's such a tension on the primetime ratings in America, but that's only about 10% of their business. CNN International ratings are phenomenal . . . and their profits last week were huge."
From there Piers revealed that before he was hired by CNN he told them they were getting their asses kicked by Fox and MSNBC and said "I don't mind having Fox do it, but Rachel Maddow . . . seriously? Are you going to let them just beat you to death like this?"
Interestingly, Piers had some other unpredictable things to say including offering praise to a cable competitor, "I think Bill O'Reilly is brilliant," suggesting that "the whole 'war on terror' title was such a fatuous load of nonsense," and declaring General Petraeus a "military genius." After Stern admitted finding his opinions very interesting, he wondered why Piers doesn't offer opinions on his show rather than waste a whole hour talking to the Kardashians, and asked if it was because CNN did not allow opinions? Piers responded, "that's wrong, what [CNN doesn't] want is me screaming from the right or left – kind of hysterical, partisan, Glenn Beck-style stuff or even Keith Olbermann or Rachel Maddow."
With some unique opinions, it seems like Piers might have an ace up his sleeve in case his show continues to tinker with the format in the future. And although Piers thought it unthinkable that Maddow could beat CNN before he arrived at the network, the fact that Maddow sometimes beats Piers now — he finished third last Friday night — might be enough incentive for Piers to want to change his format soon.
Listen to the clip below from The Howard Stern Show:

Have a tip we should know? tips@mediaite.com