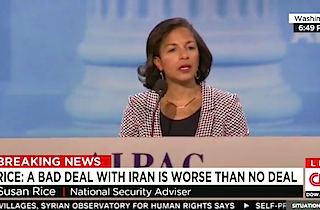 National Security Adviser Susan Rice did not have an easy time during her speech to AIPAC Wednesday evening. Repeatedly, the sometime critic of Israeli Prime Minister Benjamin Netanyahu received standing ovations from the crowd after mentioning policies she opposes.
"We cannot let a totally unachievable ideal stand in the way of a good deal," Rice said of a proposed agreement with Iran on nuclear technology opposed by conservatives in the U.S. and Israel. "I know that some of you will be urging Congress to insist that Iran forgo its domestic enrichment capacity entirely," she said, pausing long enough to give the crowd a chance to rise from their seats and cheer a point she was attempting to critique.
After more than 20 seconds, she finished her sentence, "But as desirable as that would be, it is neither realistic nor achievable."
And a few moments later, it happened again. "I know some would argue we should impose sanctions and just walk away, but let's remember—" Rice said, unable to finish her point once again as the crowd stood and applauded that approach. "My friends, let's remember that unfortunately sanctions have never stopped Iran from advancing its program," she finally concluded.
Rice has been a target of derision since calling Netanyahu's speech to Congress scheduled for Tuesday "destructive" to the U.S.-Israel relationship. Over the weekend, Rabbi Shmuley Boteach ran a full-page ad in The New York Times accusing her of turning a blind eye to genocide. He later apologized to "anyone who was offended," including Susan Rice.
Watch video below, via CNN:
[h/t NRO]
[Photo via screengrab]
— —
>> Follow Matt Wilstein (@TheMattWilstein) on Twitter
Have a tip we should know? tips@mediaite.com