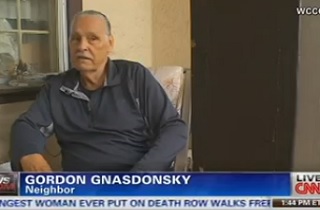 On Friday, The Associated Press published a report on 94-year-old Michael Karkoc, a Minneapolis man whom the AP says was a commander and founder of the Ukrainian Self-Defense Legion, a Nazi-led unit accused of World War II atrocities in Poland. Karkoc's family has begun to push back on the story, but as CNN reports, the news has shocked members of Karkoc's community. In a terrific example of what happens when you ask a stupid question, Karkoc neighbor Gordon Gnasdonsky told CNN's Miguel Marquez that, if true, the accusations would, indeed, change his view of Karkoc.
In an epic understatement, Gnasdonsky told Marquez "The Nazi thing was… big," adding "Yeah, I would feel differently about him."
The report was based on information obtained by a Freedom of Information At request, and on Michael Karkoc's own 1995 memoirs, published in Ukraine.
The report went on to show Andrij Karkos, son of Michael Karkoc, attempting to refute the AP story, saying that "The Associated Press intentionally and maliciously defamed our father," quoting a section of the article that says "records do not show that Karkoc had a direct hand in war crimes," and adding "My father was never a Nazi."
What the younger Karkoc left out, however, were the beginning and end of that sentence from the AP report. Here's what it said:
Though records do not show that Karkoc had a direct hand in war crimes, statements from men in his unit and other documentation confirm the Ukrainian company he commanded massacred civilians, and suggest that Karkoc was at the scene of these atrocities as the company leader. Nazi SS files say he and his unit were also involved in the 1944 Warsaw Uprising, in which the Nazis brutally suppressed a Polish rebellion against German occupation.
Associated Press reporter David Rising explained further, in an interview with WCCO radio on Friday:
"This is a unit that he actually helped found, in conjunction with the Nazi SS, ostensibly to fight against the Soviet Union," Rising said. "His unit was involved in attacks on anti-partisan movements in Poland and the Ukraine, and also in reprisal attacks on Polish villages and Ukrainian villages as well."

Rising said there's no way to prosecute someone in America for Nazi war crimes, however there have been dozens of cases where alleged Nazi war criminals have been denaturalized and deported. However, the alleged case against Karkoc is still in question.

"We didn't come up with anything that links him specifically to a specific massacre," Rising said. "We do know, from the documentation, that he was a lieutenant in command of a company that carried out several massacres. … In his memoirs, he puts himself at the scene of those events at those times, although he doesn't talk about the massacres obviously in his own book."
Authorities in Poland and Germany have expressed interest in Karkoc's case, which could result in his denaturalization and deportation.
Have a tip we should know? tips@mediaite.com