Tapper to Priebus: Are You Worried About GOP's 'Doom and Gloom' Rhetoric About America?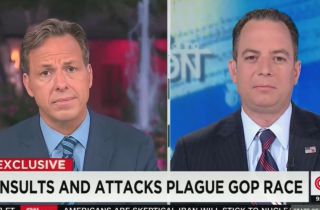 Jake Tapper asked Republican National Committee Chairman Reince Priebus on Sunday morning twice about the rhetoric used by the GOP's 2016 presidential candidates: once regarding the possibility of alienating Hispanic voters over the party's immigration talk, and another about the "doom and gloom" rhetoric some candidates use when talking about the current condition of the country.
Tapper noted former President Ronald Reagan's "sunny optimism" about the U.S. that helped him win the White House twice in the 1980s, and contrasted it with the words used by candidates like Donald Trump describing the country as a "hellhole."
"Trump's not the only one that is, I think, not really channeling Reagan when it comes to talking about how great this country is," Tapper said. "Are you worried at all that the Republican candidates have been too doom and gloom when they talk about the United States, that maybe that could benefit from some of the Reagan cheer?"
Priebus praised the work Reagan did as president, but took issue with equating the "feeling" of Reagan's presidency with the country's current state. "Each era has a different feeling, and I think at this point, a lot of people out there across this country are concerned about their futures, and I think that if you look at the polling, there's a reason why," Priebus said, touting the fact that some surveys show top GOP candidates besting Hillary Clinton in head-to-head general election matchups.
Watch the video below, via CNN:
[Image via screengrab]
— —
>>Follow Andrew Desiderio (@desiderioDC) on Twitter
Have a tip we should know? [email protected]