The Five Gets Awkward When Beckel Criticizes Ed Henry: 'You're Like the Weather Man'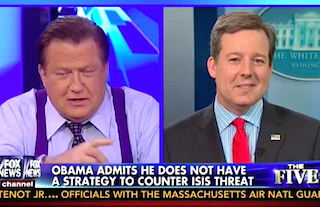 Things got a little uncomfortable on Fox News's The Five Friday when co-host Bob Beckel took a dig at his colleague Ed Henry, White House correspondent, for being the typical dispassionate reporter.
Henry joined the show via a live shot from the White House briefing room where Press Secretary Josh Earnest had previously spoke with the news media about unfolding events in Syria and Iraq.
President Obama delivered a statement Thursday on ISIS, the Islamic terrorist group located in both countries, and admitted that his administration doesn't have a planned strategy on dealing with it in Syria as of yet.
Henry weighed both sides of the public perception of Obama's admission, saying that coupled with Obama's appearance at two Democratic fundraisers Friday, the optics may be unfavorable. He said, however, that the White House has said Obama is able to manage both national security issues and fundraising.
"You know, Ed," Beckel said. "I gotta say, listening to you reminds me of what a good journalist you are." He continued sarcastically, "'On the one hand, on the other hand.' It's like the weather man. Fifty-fifty chance of rain."
Henry's face, which had been in a pleasant smile, began to fall. "You've got to come up with a new line, Bob," Henry said. "You've got to freshen it up."
Beckel went on to "congratulate" Henry, saying that Henry is the "only one" to specify that Obama's lack of a plan is only related to Syria, not Iraq, where Obama has authorized military airstrikes.
"Well, I'm being fair," Henry said.
Watch via Fox News:
[Image via Fox News/screen grab]
— —
>> Follow Eddie Scarry (@eScarry) on Twitter
Have a tip we should know? tips@mediaite.com