The Highest Paid CEO in America Is the Guy Behind TLC; See What You Have Done, America?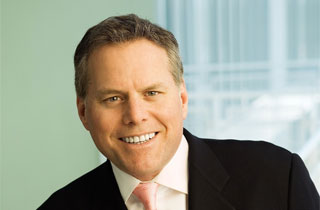 A list of the highest-compensated CEOs in America reveals that six of the top ten include the heads of media companies. But the wealthiest guy of all — paid nearly three times as much as the runner-up — is the CEO of Discovery Communications, the media conglomerate behind TLC and Discovery Channel. (This is how much the Duggars and Honey Boo Boo are worth. Think about it, America.)
According to a new report from the Associated Press and Equilar, which analyzed the 2014 total compensations of CEOs who have run their companies for at least two years, Discovery's David Zaslav will rake in $156.1 million this year. For a comparison, CBS CEO Les Moonves only made $54.4 million.
Discovery Communications' cable portfolio includes the Oprah Winfrey Network, TLC, Animal Planet, and the Discovery Channel (the genesis of this massive reality empire). According to the report, Zaslav's compensation increased by 368 percent — no, that's not a typo — from 2013 after he renegotiated his contract.
One reason for the high level of pay in the industry is that its CEOs are dealing with well-paid individuals.

"The talent, the actors and directors and writers, they're being paid a lot of money," said Steven Kaplan, a professor of finance at the University of Chicago Booth School of Business. "In industries where the talent makes a lot of money, the CEO makes a lot of money as well."
The other media CEOs on the list include Viacom's Philippe Dauman (3rd; $44.3 million), Disney's Bob Iger (4th; $43.7 million), Comcast's Brian Roberts (9th; $33 million), and Time Warner's Jeffrey Bewkes (10th, $32.7 million.)
Notably, Zaslav and some of his his media colleagues beat out Yahoo's Marissa Mayer (5th, $42.1 million) and Salesforce.com's Marc Benioff (7th, $39.9 million).
[Image via Discovery]
—
>> Follow Tina Nguyen (@Tina_Nguyen) on Twitter
Have a tip we should know? tips@mediaite.com