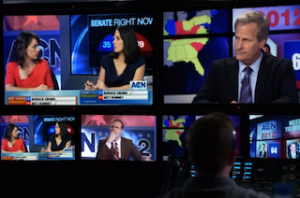 Now that the Operation Genoa bombshell has been detonated, The Newsroom was free to move on to things that actually happened this week. Namely, that time when President Barack Obama defeated Mitt Romney. As the show did so effectively in the fifth episode of the season, "Election Night, Part 1" focused in one one evening news broadcast, this time tackling one of the biggest news nights of the year.
Of course, with so much cover on air, the aftermath of the massive Operation Genoa fail was still dominating the action backstage. Charlie, Will, Mac and pretty much everyone else who had a hand in the story had offered their resignations, but Jane Fonda's Leona Lansing wouldn't accept them. Either she just really hates admitting a mistake or is too busy partying with Daniel Craig to go through the trouble of staffing an entirely new news division.
Last night's episode also featured the first (chronological) appearance of the team's lawyer, Rebecca Halliday, who is instantly comfortable explaining to Charlie and Will why they can't resign to save their "credibility" before heading up to the network's big election night viewing party in her "liquid sex" dress. She does prompt Charlie to deliver one of his infamous, profanity-laden monologues ending with the exclamation, "We have gone to the zoo!"
The ACN all-star team is ready to report the election return, with the handy new edition of "Republican strategist" and recently-fired Romney spokeswoman Taylor, who is making her TV debut in an absurdly high-profile moment. She gets the chance to bond with Maggie over their mutual hatred of Jim by giving her an exclusive tip about a GOP congressional candidate that she knows no one else will have. Maggie takes the quote from the congressman who once wrote about women who "cried rape" before condemning Todd Akin's very similar "legitimate rape" comments. When Don calls the congressman's aide (and his former tennis partner/shower buddy) for comment, he offers ACN a big trade if they hold the story under after the polls close.
Meanwhile, despite a montage of buzzwords and jargon demonstrating how prepared everyone is, it doesn't seem like anyone is taking Election Night very seriously. This is despite Charlie's big pep talk to the staff, complete with photos of people in oppressed countries around the world pretending to be American. "Our elections are the envy of the world," he tells the staff, before begging them not to make any mistakes. "If you make a mistake, run out of the building as fast as you can…"
You would think that fear of Charlie's wrath would make characters like Sloan and Mac focus more on the job at hand than the petty internet-based distractions that just happen to pop up once they're on the air. But then, of course, that would leave Neal with nothing to do. It's not like he needs to be running the network's Twitter account or anything. Sloan sets Neal on wild goose chase to find out how a book she wrote ended up getting auctioned off with a forged signature, while Mac puts him on the case to edit her Wikipedia page to say that she was president of the Cambridge union, not the utterly humiliating Oxford union. C'mon, Neal, this is the stuff we hired you to deal with!
The highlight of News Night's mostly boring Election Night special coverage came courtesy of Taylor, who, as the token conservative at the table, gives her two cents on the whole 47% fiasco: "The biggest effect it had was on the media." She goes on to rail against the "liberal media bias," evidenced by Will, as the supposed Republican who appears to spend most of his time on air comparing the tea party to the Taliban. This leads to Sloan's best line of night: "In fairness, he did anchor a report about a democratic president committing war crimes and that wasn't even true."
Will resisted the urge to mercy-fire Mac earlier in the episode, taking pity on her for not getting any sleep and telling her, "You look like you were grown in an environment where it's dark and damp." But by the end of last night's episode, he'd had a change of heart. Will fires Mac after telling her what a good boyfriend he was and insisting that he hasn't been "punishing" her for the last several years.
The last minute bombshell this time came in the form of Don's shower-mate's big scoop: A full three days before the story broke wide, ACN has two sources confirming that David Petraeus is about to admit his affair and step down as CIA director. There's only one problem, as summed by this exchange between Don and Charlie:
Don: "If we agree to hold off on reporting the story, he'll get us two on-the-record sources."

Charlie: "As long as its not a potentially libelous story about misconduct in the armed forces, I'm listening."

Don: "David Petraeus is about to resign over an extramarital affair with his biographer, a Lt. Colonel in the Army Reserve. And the commander of U.S. Forces in Afghanistan will be investigated in regard to a relationship with a Florida socialite who is receiving harassing emails from General Petraeus' mistress.
At this point, Charlie lets out his most incoherent "What the fuck!" yet, reflecting how big the network's "credibility" problem has become.
Will takes the news just as hard, advising Taylor to "take him apart" for his personal political views seconds before going back on-air. We will have to wait until next week's season finale to find out what he means by that, but I think we can expect Will to address the "elephant in the room" before Election Night is over.
Everything else you need to know:
Marcia Gay Harden looked very nice in her party dress, but anyone who uses the term "liquid sex" automatically stops exuding liquid sex.
With his walking tour of the Decision Desk, we now know that Eliott is the Megyn Kelly of ACN.
What's with Taylor's goofy arm-pumping under the table for Romney's Indiana victory? She is still totally gunning for that guy who fired her.
You have to give Jim some slack on the whole Mississippi (MS) vs. Michigan (MI) mix-up. If that was the worst thing that happened all night, they're doing way better than actual news networks.
Not enough Hallie in this episode, but she did have one brief appearance, reporting live to Jim via Skype from Romney headquarters in Boston. She confirms the delusional good party vibes that everyone heard so much about the morning after.
[photo via screengrab]
— —
>> Follow Matt Wilstein (@TheMattWilstein) on Twitter
Have a tip we should know? tips@mediaite.com