The Tonight Show Cancellation of Norm MacDonald Visit Reminds Us How Safe Jimmy Fallon Plays It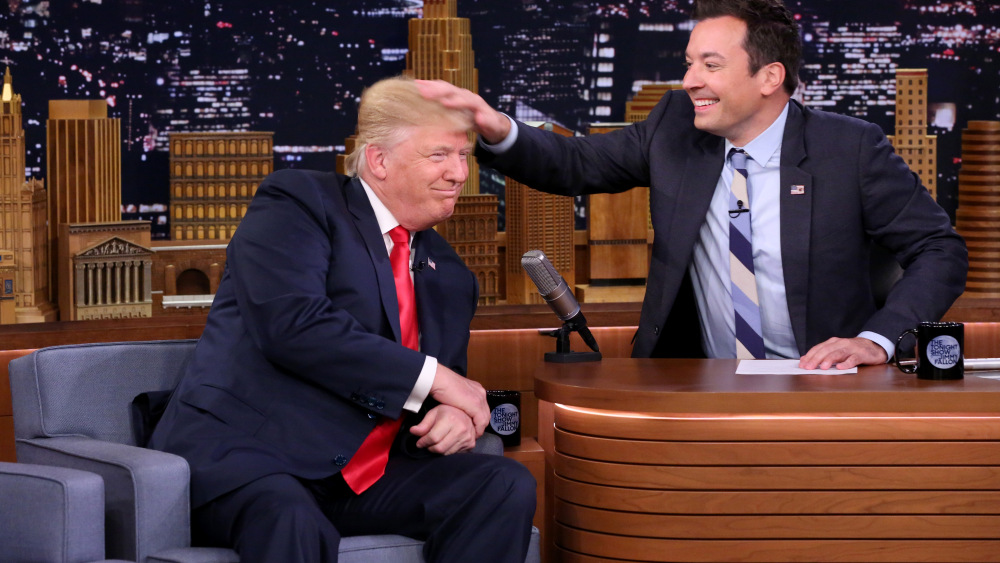 In the hours before a planned appearance on The Tonight Show, comedian Norm MacDonald found himself in a maelstrom of controversy over comments made about the #MeToo movement. Like Hurricane Florence slowly creeping over the Atlantic, the hot bile of social media outrage fueled a perfect storm of publicity for the NBC talk show. Who wouldn't tune in to watch host Jimmy Fallon hold MacDonald's feet to the fire?
Well, it turns out, no one would, because the powers that be at The Tonight Show canceled the appearance.
In a statement first published by the New York Times, NBC said: "Out of sensitivity to our audience and in light of Norm Macdonald's comments in the press today, 'The Tonight Show' has decided to cancel his appearance on Tuesday's telecast." To quote Trump cartoon character Corey Lewandowski, "womp, womp."
Those "comments in the press" came in an interview with The Hollywood Reporter, in which the former Weekend Update host shared some eyebrow-raising takes on fellow comedians Louis C.K. and Roseanne Barr.
"Roseanne was so broken up that I got Louis to call her, even though Roseanne was very hard on Louis before that," he told THR. "But she was just so broken and just crying constantly. There are very few people that have gone through what they have, losing everything in a day. Of course, people will go, 'What about the victims?' But you know what? The victims didn't have to go through that."
It was his admission that he was "happy the #MeToo movement has slowed down a little bit," however, that earned MacDonald the most piqued criticism and presumably led to his snubbing on the uber-sensitive The Tonight Show.
MacDonald said:
"I'm happy the #MeToo movement has slowed down a little bit. It used to be, "One hundred women can't be lying." And then it became, "One woman can't lie." And that became, "I believe all women." And then you're like, "What?" Like, that Chris Hardwick guy I really thought got the blunt end of the stick there.
After significant (and quite reasonable) uproar, an earnest MacDonald apologized on Twitter, saying:
Roseanne and Louis have both been very good friends of mine for many years. They both made terrible mistakes and I would never defend their actions. If my words sounded like I was minimizing the pain that their victims feel to this day, I am deeply sorry.

— Norm Macdonald (@normmacdonald) September 11, 2018
There it is: perfect fodder for an entertaining and insightful discussion of the #MeToo movement, mutual respect, and even the language standards to which we hold comedians. But alas, it was not to be.
Fallon's punting on a plum interview opportunity is hardly the first time he's taken heat for being soft. His recurring interplay with then-candidate Donald Trump (and the now-infamous hair tussle) was seen by critics as normalizing a wildly extreme candidate who had — amongst other things — already called for banning Muslims from entering the United States.
It wasn't that long ago that we looked at late night talk show hosts to help bring sense (and levity) to complicated topics. David Letterman was the king of comedic confrontation that compelled the audience to think. Even Jay Leno famously didn't shy away from hosting Hugh Grant after he was arrested for solicitation in a public restroom.
It's no mystery why the likable Fallon has had great success. He is a very talented sketch comedy artist, who has cracked the viral video conundrum better than anyone else. But he reminds us the reason why vanilla is the most popular flavor of ice cream:  nobody dislikes it.
The shifting mores of gender and identity politics may be politically vexing to some, but the best way to gain a broader understanding is to confront changing expectations and definitions of unseemly behavior. And as we saw last night, Mr. Fallon hides from the task of confronting meaningful topics moving the public discourse.
Navigating complex the issues presented by MacDonald's dust-up — without fear of embarrassment –requires a host with intellectual heft, a broad sensibility and courage to confront. Jimmy Fallon has yet to prove he bears such qualities.
Have a tip we should know? tips@mediaite.com
Colby Hall - Founding Editor