The View Defends Matt Lauer From Blame For Today's Woes: It's 'Anger' Over Him Making 'So Much Money'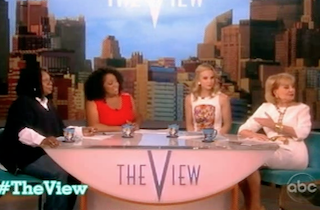 The ladies on The View took to defending Today co-host Matt Lauer on Thursday, when they discussed the Daily Beast story that pointed to how Lauer is blamed for Ann Curry's exit, Today's struggles— and how, in general, his public image has taken a hit. He's the face of the show so he gets the blame, co-hosts said… but part of it has to do with money.
Many people are angry because Lauer reportedly made $25 million, Barbara Walters noted, which prompted the question, "Did he earn it?" She recalled similar criticism when she started at ABC and received $1 million and was deemed a diva.
"I think that Matt Lauer is great and I think one of the reasons that Good Morning America is surpassing it is that it seem to be more fun," she said. "So he's now being blamed for whether Ann Curry was his fault that she left or it was not, but I think it also still has to do with the money. Why do you make so much money?"
"I have never understood people's anger over other people's ability to do well," Whoopi Goldberg chimed in. "What makes you think I don't work as hard as you do at your job? Why shouldn't I get paid what I'm worth? God bless me!"
Lauer's worked on the show for a long time, and Goldberg said she didn't understand why his pay upset people.
"It may look to you like it's an easy job," she later added. "People always think what we're doing here takes nothing. But these talk shows that start, they start and fall cause it's not easy. You have to be able to to do stuff."
Take a look, via ABC:

Have a tip we should know? tips@mediaite.com