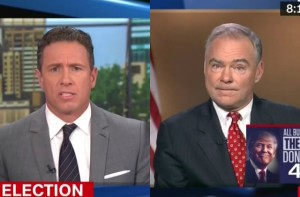 Democratic vice presidential candidate Tim Kaine was called out by CNN New Day host Chris Cuomo Thursday after suggesting that sanctuary cities– localities that refuse to cooperate with federal immigration officials– do not actually exist.
"I trust the voters of communities to hold their mayors and their police departments responsible," Kaine said. "When Donald Trump kind of goes after these phantom 'sanctuary cities' and talks about how bad they are, basically what he's going after is police chiefs. And I trust police chiefs in terms of knowing what should be done to keep their communities safer and police departments and mayors a lot more than I trust Donald Trump."
Cuomo took issue with Kaine's insistence that the idea of sanctuary cities was only "phantom." "But why do you say 'phantom'? You know that there are places that refuse to cooperate with [Immigrant Customs Enforcement] and they have their assembly of different reasons for why they do it, but sanctuary cities are real," he said.
"They exist, they're not phantom," he continued. "And a lot of people believe that, you know, you have those people being rewarded for not working hand in hand with ICE."
Kaine's comment was especially odd because the Hillary Clinton campaign has used the term "sanctuary city" and embraced the concept in the past. "Hillary Clinton believes that sanctuary cities can help further public safety, and she has defended those policies going back years," said campaign spokeswoman Xochitl Hinojosa in 2015, when Trump first attacked sanctuary cities.
Sanctuary cities also aren't particularly rare; by one count, there were over 200 across the nation in 2015.
[Image via screengrab]
——
>>Follow Alex Griswold (@HashtagGriswold) on Twitter
Have a tip we should know? tips@mediaite.com