Touré: If Adam Lanza Shot Up A Black School, There Would Be No 'National Conversation About Guns'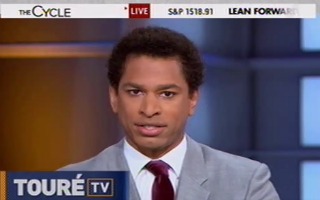 On Friday, MSNBC host Touré took on what he said was a distinctly racial opinion piece in The Daily Caller by National Rifle Association CEO Wayne LaPierre. In that post, the gun rights advocate defended gun ownership by saying that guns are American's only defense in a lawless, post-disaster environment. Touré said that the racial overtones in LaPierre's post were evident and added that, had Newtown shooter Adam Lanza committed his atrocity in a predominately black school, there would be no "national conversation" about gun violence.

RELATED: Touré: Ted Nugent's Presence At State Of The Union A 'Human Middle Finger' To Obama
In an editorial segment on Friday's The Cycle, Touré detailed the epidemic of gun violence in minority communities, particularly among African-Americans. He linked the high rate of gun violence among blacks to the broad support for gun control in the black community, as well as the fact that 83 percent of African-Americans tell pollsters that they do not own a gun while almost a majority of whites do admit to owning a firearm.
"Perhaps we know Wayne LaPierre is wrong about good guys, and bad guys, and guns," Touré said of the black community. "I'm sure many of us find him hard to trust given his obvious use of racial demonization to spread fear that will lead to buying guns."
Touré mocked LaPierre for demonizing a fictional but crime-ridden place called "South Brooklyn."
"I think it's safe to say that when he says that, much of the country envisions a place clogged with black people," Touré said.
"Now, if Adam Lanza had walked into a black public school in this mythical South Brooklyn, or in the South Side of Chicago, we would probably not be having a sustained, national conversation about guns," Touré declared.
He went on to say that gun control is a legislative priority for African-Americans, and President Barack Obama will have achieved a major accomplishment if he manages to sign new laws that restrict gun ownership.
"When people say, 'what has Obama done for the black community?' Tell them, whatever he accomplishes on gun control will disproportionately help us," Touré concluded.
Watch the clip below via MSNBC:
> >Follow Noah Rothman (@NoahCRothman) on Twitter
Have a tip we should know? tips@mediaite.com