Trayvon Martin's Friend Breaks Down During Tough Cross-Examination: 'I Didn't Want To See The Body'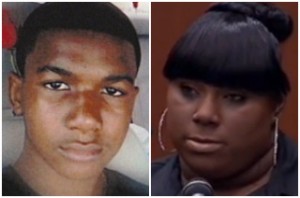 After revealing some shocking information about the content of her final phone call with Trayvon Martin during her testimony to the prosecution this afternoon, witness Rachel Jeantel was faced with a tough cross-examination by George Zimmerman's defense attorney Don West. Much of the cross-examination revolved around Jeantel's decision not to attend Martin's funeral, which at time she attributed to being in the hospital. It turns out, that was a lie.
Jeantel became emotional when recounting the real reason she did not want to attend Martin's funeral. "I didn't want to see the body," she told West. "You've got to understand, you're the last person to talk to the person and he died on the phone after you talked to him? You've got to understand what I'm trying to tell you. I'm the last person… You don't know how I felt. You think I really want to go see the body after I just talked to him?"
But West pressed her on why she decided to lie about her decision to stay home that day. "What you did in order to explain that to Ms. Fulton," he said, referring to Martin's mother, "and then to Mr. de la Rionda," the lead prosecutor in the case, "under oath is that you created a lie and said you had gone to the hospital?"
"Yes," Jeantel replied.
While the defense team succeeded in getting Jeantel to admit to a series of lies on the stand, she may have also creating some sympathy with the jury for the obvious emotional toll the ordeal has taken on her.
Watch video below, via CNN:
—
>> Follow Matt Wilstein (@TheMattWilstein) on Twitter
Have a tip we should know? tips@mediaite.com