Tucker Carlson: Teachers Union Leader 'Pro-Soviet, Totalitarian, Violently Anti-American'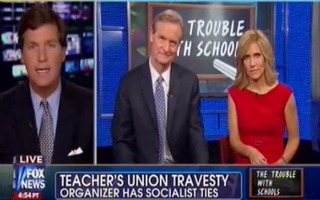 In a segment on "Trouble with Schools," Daily Caller editor Tucker Carlson appeared on Fox & Friends, calling a recent hire by the American Federation of Teachers a "Pro-Soviet, Totalitarian, Violently Anti-American" 9/11 conspiracy theorist who should "be nowhere around children ever."
RELATED: Tucker Carlson, Kirsten Powers And Hannity Clash Over Obama And Bill Ayers' View Of Capitalism
"Parents, would you want radicals having a hand in your children's education?" asked weekend host Alisyn Camerota.
"The American Federation of Teachers, the AFT, doesn't have a problem with that," said co-host Steve Doocy. "Apparently, their deputy director for organization used to work for the Socialist party. What?"
Doocy introduced Carlson and asked him "what's the problem with having a socialist there?"
"Well, let's just be really clear with what we mean by socialist," Carlson began. "This is not someone who supported [former Vermont Gov.] Howard Dean, you know, who thinks we should have universal health care. This is the Socialist Party U.S.A."
"This was a top official in that group; pro-Soviet, totalitarian, violently anti-American who worked there for a number of years, who is now one of the big organizers for one of the biggest teachers unions in the United States," said Carlson. "By the way, making $212,000 per year – hardly a socialist's salary – to destroy charter schools; the hope of the poor stuck in these government controlled schools."
"The guy that you're talking about, his name is Shaun Richman, and he also has a dubious past in terms of what he has said about 9/11," said Camerota. "It sounds like he thinks it's sort of an inside job. We have a statement from him – this is as reported by the Conservative News Service – back in 2008, Shaun Richman said, 'I refuse to believe that bin Laden… is behind all of these things he's been accused of… Most of the people who planned it [Sept. 11 attacks] died in the execution of it."
"What do you make of that?" Camerota asked Carlson.
"Well you don't often hear people defend Osama bin Laden, at least in English," Carlson responded. "I think the date is significant here. This was not November, 2001 where the smoke was hanging in the air and we're confused, not sure exactly what happened. This is 2008. This is after Osama bin Laden himself said in very specific terms, 'yes, I planned this.' When there is literally no doubt in the mind of any rational person that bin Laden was the head of the conspiracy that resulted in 9/11. To deny that in 2008 suggests, A, this guy is deeply unreasonable. B, he's got an agenda that's so over the top in evil that he should be nowhere around children ever."
"Can you imagine looking at a resume of a guy, you're teachers union, 'oh yeah, he's a Socialist Party U.S.A. candidate who supports Osama," Carlson wondered aloud. "Perfect."
"We reached out to the American Federation of Teachers for a statement regarding this guy. They haven't gotten back to us yet," Doocy concluded.
Watch the segment below via Fox News Channel:
Have a tip we should know? tips@mediaite.com