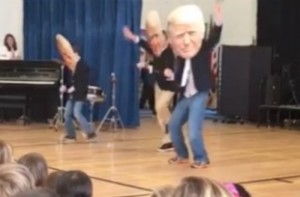 A few weeks ago, conservatives were celebrating the defiant stance that three kids in Massachusetts took against liberal PC oppressors who forbade them from dancing in their oversize Donald Trump masks, electing to bow out of the competition rather than change their costumes. In fact, Fox News' Bill O'Reilly noted that "parents in the audience" of the talent show in "Wellesley, Massachusetts, very liberal suburb of Boston," complained about the act, and groused with formerly-funny standup comic Dennis Miller about the oppressive "pinheads" on his April 20th show:
As it turns out, though, it wasn't liberal pinheads who spoiled the fun for these kids, it was a Donald Trump supporter who, shocker, sent the school pictures mocking President Obama and Muslims. From Wicked Local Wellesley:
In the e-mails, which included a caricature of President Obama and another with a Muslim man holding a severed head, the parent objected to the content of the skits and promised to send their children to school dressed as the Muslim prophet Muhammad.

…"Please grow up and realize that there are many different views and that a talent show ridiculing someone is first not a talent and would have never been tolerated if it was of Obama," the parent said in her initial e-mail. "May be next year my kids will dance a hijab on [sic]!"

Fiske Principal Rachel McGregor, in a subsequent e-mail to Lussier, said numerous teachers were feeling unsafe as a result of the e-mails.

…"My husband is voting for Trump," the parent, whose name was redacted, told McGregor and teacher Lizzy Floyd in her initial complaint. "You should be so lucky to be married to someone as wonderfully Republican as him."
So, illiterate racist, liberal pinhead? Tomato, tomahto. Can't wait to see this in the No Spin Zone.
This is an opinion piece. The views expressed in this article are those of just the author.