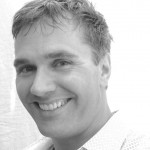 Oprah, Britney, and Ellen share more than just the international spotlight. Between them they've collected over 6 million followers and three top 10 positions on Twitter, the internet's latest social networking platform. Where blogs promised us all a spot on the world stage, Twitter has given us a roaming microphone and the ability to wade into and interact with the crowd.
And yet surprisingly, of the last 300 tweets (messages) sent out by these 3 celebrities or their staff on their behalf, only 3 have been replies or references to their followers.
They're not alone. For every 5 tweets across Twitter only 2 contain an @ symbol. That means we're interacting with others in just 40% of our messages; the other 60% of all tweets are 1-way blasts sent into the quickly growing Twittersphere.
Twitter gives us the power to personally engage a follower and have that engagement seen by everybody inside our social graph. Thanks to search engines, 3rd party apps, and Twitter's openness, this visibility also extends across the web. Never before has an interactive platform been so easy, so accessible, and so fully exposed. It's every celebrity and PR person's dream. It's every marketer's dream. Looking at Twitter's shocking growth in 2009, it seems to be every person's dream, famous or not, to grab the mike, step off the stage, and interact in public with their friends and followers. Celebrities, politicians, and brands have been quick to jump on board.
So how are they doing?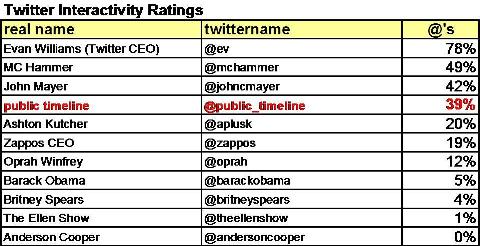 • Oprah Winfrey. After her first tweet in April live from her show, Oprah's Twitter crowd skyrocketed to a dizzying 1.8M followers. Tweets like "Still haunted by the glorious performances in RUINED" give us a glimpse into her thoughts, but since April she's had virtually no interaction with her fans.
• Anderson Cooper. With ¼ million followers and over 100 people asking him questions every day, Anderson Cooper has built a solid presence inside Twitter. The 5,252 messages in his tweetstream are intelligent and compelling – perfectly on brand – and he's highly active with over a dozen tweets/day, but none of them engage directly with his audience.
• Barack Obama. After winning their highly interactive political campaign for the presidency, Obama's team captured 1.6M Twitter followers but still has yet to tap into its true potential. Daily links drive us to Obama's own websites but the team that set the new benchmark in interactive marketing has yet to interact with its Twitter followers.
Who is leveraging Twitter's true potential? Not surprisingly, Twitter CEO Evan Williams is setting the gold standard for us with a 78% interaction rating. Longtime Twitterer MC Hammer overindexes in replies; half of his tweets are conversations with others in his 1.0M crowd. John Mayer wades into his crowd often – 42% of the time – to engage with his 1.6M fans. And smart PR professionals like Brooke Hammerling are building their own names on Twitter and paving the way in the business world with 40% interaction ratings.
Most people don't expect to see a response to their own tweet when they're among millions but like a sea of hands raised in a massive audience, they expect somebody to be acknowledged. Businesses, marketers, and celebrities are taking notice. As these interaction success stories continue to grow and followers' expectations grow with them, Twitter will mature out of its self-centered ways and into conversational adulthood.
Andrew Cherwenka is VP Biz Dev at Trapeze.com, an interactive marketing agency with offices in New York and Toronto. His twitter profile @andrewcherwenka has a 53% interactivity rating.
This is the 1st of a 5-part series on Twitter covering the 5 things that make it such a revolutionary interactive marketing platform: its ease of interaction, immediacy, visibility, searchability, and linkability. All parts will be backed up with an embarrassing amount of data. For spreadsheets referred to in this post please visit my personal blog.
.
Have a tip we should know? tips@mediaite.com